Roasted Baby Back Pork Ribs with Herbed Honey-Mustard Marinade
Serves 4 to 6
I love grilled pork ribs, but I wanted to do a preparation for those times when you cannot grill outdoors. I also wanted something different than the usual tomato or vinegar-based barbecue sauce. In this recipe, I decided to slow roast the ribs and then brown them under the broiler. I also used a lighter marinade which is very good drizzled over the cooked ribs or a side dish. This recipe is very easy and preparation time is minimal. Just plan ahead so that the ribs have time to marinate and cook, which can be done the day before. Make this in any amount needed.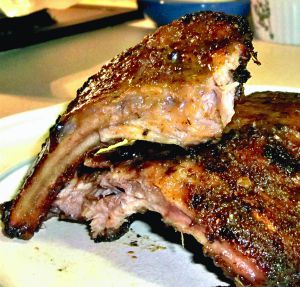 Ingredients
2-1/2 to 3 pounds pork baby back ribs
1 cup dry sherry
3 tablespoons Dijon mustard
3 tablespoons honey
2 tablespoons red or white wine vinegar
4 large garlic cloves, finely chopped
1 teaspoon dried thyme leaves
1 teaspoon dried sage leaves
1 teaspoon dried rosemary leaves
1/4 teaspoon sweet paprika
Pepper to taste
1/4 cup olive oil
Salt to taste
Cut the ribs into sections of 3 or 4 ribs each. Place in a sealable plastic bag. Mix together the remaining ingredients, except the salt, in a small bowl until well combined. Pour half of the marinade into the bag; seal and turn several times to coat all of the ribs, adding a little more of the reserved marinade if needed. Refrigerate, along with the reserved marinade, for at least 4 hours or overnight.
Preheat oven to 300° F. Place the ribs in a shallow roasting pan or baking dish in one layer. Add just enough of the marinade to cover the bottom of the pan, not the ribs. Season the ribs with salt on both sides. Roast, turning occasionally, until meat is tender, about 2 hours.
When the meat is tender, remove the ribs and place the marinade from the pan in a medium saucepan with the reserved marinade. Bring to a boil; cook until reduced by half. Preheat broiler to high. Brush the ribs with some of the reduced marinade and broil until nicely browned on both sides, about 3 minutes per side depending on broiler. Cut into individual ribs and serve immediately, drizzling with some of the remaining marinade.
Notes: Depending on how much meat is on the ribs you purchase, roasting time may vary. Check for tenderness after 1-1/2 hours. If done early, the ribs can set at room temperature for up to one hour before broiling. I use dry sherry in the marinade, but dry white wine or vermouth work as well. When marinating in a plastic bag, I place the bag in a bowl or dish, just in case the bag leaks. In a pinch, you can reduce the marinating time to as little as two hours. It will still be very good. The ribs can be baked until tender, then refrigerated, as well as the reduced sauce, in separate containers. Bring the ribs back to room temperature before basting and broiling.