Braised Chicken with Sweet Potatoes
Serves 4
This idea came from my braised chicken and vegetables made with white potatoes, which is in the similar and related recipes. I made a few changes to the ingredients, most significantly substituting sweet potatoes for the white. It makes a quick, easy and delicious Southern-style one pot meal.
Ingredients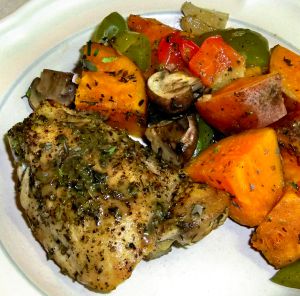 4 large chicken thighs or other bone-in pieces, with or without skin
Salt and pepper to taste
2 tablespoons olive oil
1/2 cup dry white wine
2 large sweet potatoes, peeled and cut into 1-1/2 inch cubes
2 medium onions, peeled and cut into medium wedges
2 medium green bell peppers, seeded and chopped into 1-1/2 pieces
1/2-pound cremini or white button mushrooms, halved if large
6 large cloves garlic, smashed and peeled
1 teaspoon dried marjoram leaves
Pat chicken dry with paper towels. Season on both sides with salt and pepper. Heat a large skillet or sauté pan over medium-high heat. Add the oil, then the chicken, skin-side down, and brown on each side, about 3 minutes per side. Remove chicken from pan and drain off excess fat.
Return the chicken to the pan and add the remaining ingredients, starting with the wine. Season with additional salt and pepper. Bring to a boil. Cover, reduce heat to medium-low and simmer until chicken is done and potatoes are tender, about 40 minutes. Check occasionally and add a little water if the pan dries out. Serve immediately.
Notes: When braising, I usually use bone-in chicken pieces and remove the skin. Skinless pieces will not render as much fat, so there is no need to drain the pan after browning. When I have fresh marjoram on hand, I like to add some at the end of cooking for an extra burst of flavor.