Baked Chicken Thighs with Herbed Breadcrumbs
Serves 2
I must admit that I love the skin on chicken, especially when browned and crispy. It also helps keep the meat moist. So, when I decided to remove the skin from my favorite baked chicken, which is in the similar and related recipes, I knew that I had to do something to protect the thighs from drying out and add a flavorful crunch. The fresh breadcrumbs, seasoned with Parmesan, herbs and drizzled with a little olive oil did the trick. This is now my favorite quick and easy 'go to' chicken for a weeknight main dish. Make the recipe in any amount desired, serving one or two thighs per person, depending on size.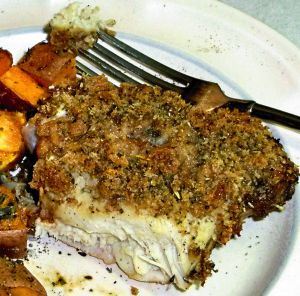 Ingredients
Cooking or olive oil spray
2 large bone-in chicken thighs
Dijon mustard
Balsamic or red wine vinegar
1 large garlic clove, peeled and finely chopped or minced
3/4 cup fresh breadcrumbs, preferably whole wheat or multigrain
1/2 teaspoon dried sage leaves
1/4 teaspoon dried thyme leaves
1/2 teaspoon dried rosemary leaves, crumbled between fingers
Salt and pepper to taste
1 tablespoon freshly grated Parmesan cheese
Olive oil or olive oil cooking spray
Preheat oven to 400° F. Lightly spray a small, shallow baking dish with cooking or olive oil spray. Remove the skin and visible fat from the chicken thighs and place in the dish. Lightly spread the top of each thigh with the mustard. Drizzle with some vinegar, then top with the garlic.
Mix together the breadcrumbs, sage, thyme, rosemary, salt and pepper. Place on top of each thigh and press down to help it adhere. Sprinkle with the Parmesan, then drizzle lightly with the oil. Bake until the chicken is cooked through and the juices run clear, 40 to 45 minutes, depending on size.
Notes: Since I first created this recipe, I have used bone-in and skinless legs or breasts. They are delicious as well. Just be careful not to overcook the breast. If you are in a pinch for time or feeling a bit lazy, omit the fresh garlic and add a little garlic powder to the crumbs. I always have fresh breadcrumbs in the refrigerator or freezer because I usually pull out excess bread from the center of crusty sandwich rolls before using. You can also make crumbs from sliced bread.