Oven-Fried Pork Chops
Serves 4
If you have never made your own coating mix for oven-fried meats, poultry or seafood, give it a try. It is very simple to do, much less expensive, and you get to control all the ingredients, including herbs, spices, fats and sodium. This pork chop recipe is quick, easy, healthy and tastier than those made with store-bought coating mixes. It has become one of my favorite 'go to' pork chop recipes. See my version for chicken in the similar and related recipes. Make this recipe in any amount needed.
Ingredients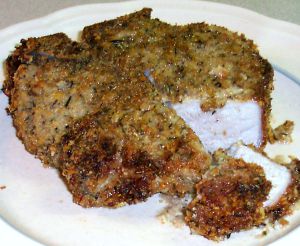 4 pork loin chops, about 4 ounces and 3/4-inch thick each, fat trimmed (see notes below)
2 tablespoons Dijon mustard
1-1/2 cups dry breadcrumbs or panko, preferably whole wheat, store-bought or homemade
2 teaspoons garlic powder
2 tablespoons freshly grated Parmesan cheese
1/2 teaspoon dried thyme leaves
1 teaspoon rubbed sage
1 teaspoon dried rosemary leaves, crushed
Salt and pepper to taste
Cooking oil spray
Preheat oven to 450° F. Pat the chops dry with paper towels. Coat each side well with the mustard. On a flat plate or piece of waxed paper, combine the breadcrumbs, garlic, cheese, thyme, sage, rosemary, salt and pepper. Place the chops into the crumb mixture, turning to coat each side very well. Place on a greased or sprayed baking rack set in a rimmed baking sheet or shallow baking dish. Lightly spray the tops with cooking spray. Bake until brown and done, about 30 minutes. Let rest about 5 minutes before serving.
Notes: This recipe works equally well with bone-in or boneless pork loin chops. I make whichever I have on hand. Boneless chops might cook in as little as 20 minutes, depending on thickness.