Oven-Fried Chicken Breasts
Serves 2
I usually prefer the dark meat of poultry because I think it has more flavor. That being said, I love this recipe for oven 'fried' chicken breasts. The flavorful breadcrumb crust enhances the meat. Using an instant read thermometer is very helpful because there is a brief pocket of time between when the chicken breast is cooked through and when it is overcooked and dry. Other than that precautionary step, this is a quick, easy, healthy and delicious main dish. Make the recipe in any amount needed.
Ingredients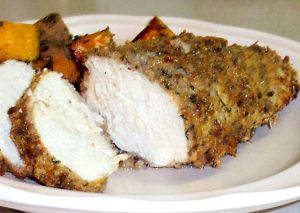 2 boneless, skinless chicken breasts, about 6 ounces each
1 tablespoon Dijon mustard
Salt and pepper to taste
1 cup dry breadcrumbs, preferably whole wheat (see notes below)
2 tablespoons freshly grated Parmesan cheese
1/2 teaspoon dried thyme leaves
1/2 teaspoon dried rosemary leaves, crushed
1/2 teaspoon dried rubbed sage
1/2 teaspoon garlic powder
Canola or olive oil cooking spray
Preheat oven to 450° F. Place a baking rack sprayed with cooking oil on a shallow-sided sheet pan or baking dish. Pat the chicken breasts dry with paper towels. Spread them all over with the mustard and season with salt and pepper. On a plate, mix together the breadcrumbs, Parmesan cheese, herbs, garlic powder, salt and pepper. Taste for seasoning and adjust as needed. Dredge the chicken in the breadcrumbs, coating all sides and patting it in to help it adhere. Place on the baking rack. Spray the tops lightly with cooking spray. Bake until an instant-read thermometer inserted in the thickest part reaches a temperature of 160° (or until the juices run clear when pierced with the point of a knife), about 20 minutes, depending on thickness. Remove from oven, tent with foil and let rest for 5 minutes before serving.
Notes: Since chicken breasts vary in thickness, you will want to check them after 15 minutes if rather thin. If you can get whole wheat panko crumbs, they are very good and especially crispy. If not, and you want whole wheat crumbs, making your own is very easy. See the similar and related recipes for details.