Baked Sea Scallops with Herbed Breadcrumbs
Serves 4 as a main dish,
6 to 8 as an appetizer
I love scallops, especially large sea scallops. For years I have had recipes for sautéed, fried and broiled, some of which are in the similar and related recipes. I tried baking them once before, but was not very successful and I wanted to try again. Since the scallops do not brown in the oven like they do in a skillet or under the broiler, I knew that I would need something more than just butter to add a little flavor, provide contrast in texture and keep them moist during the baking process. So, using my favorite recipe for baked oysters with breadcrumbs, also in the similar and related recipes, I made a few changes and came up with these equally delicious baked scallops. This recipe is a quick and easy seafood main dish, perfect for a family dinner, special occasion or entertaining. It also makes an awesome appetizer or first course. If necessary, the recipe can be halved or made in any amount needed.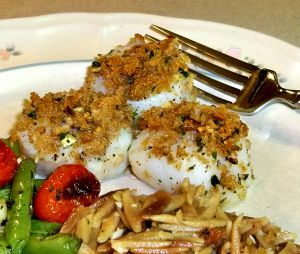 Ingredients
1 cup fresh breadcrumbs, white or whole grain
2 tablespoons butter, preferably unsalted, divided
1 large garlic clove, minced
1 tablespoon chopped fresh parsley
1 to 1-1/4 pounds fresh sea scallops (see notes below)
Salt and pepper to taste
1 tablespoon dry sherry (optional)
For the breadcrumbs, melt 1 tablespoon of butter in a small skillet over medium heat. Add the breadcrumbs and garlic. Sauté, tossing until golden, about 4 minutes. Remove from heat and stir in the parsley. Let cool. (Can be prepared several hours ahead.)
Preheat oven to 375° F. Butter or spray with cooking oil a shallow baking dish large enough to hold the scallops in one layer. (For easy cleanup, line the dish with foil before greasing.) Place the scallops in the dish. Season lightly with salt and pepper. Melt the remaining tablespoon of butter and drizzle evenly over the scallops along with the optional sherry. Top with the breadcrumbs. Bake until hot and the scallops are just cooked through, about 15 minutes. Serve immediately.
Notes: As with most seafood, it is very important not to overcook the scallops or they will become dry, tough and tasteless. If they are small, check them sooner. If very large, they might need a little more baking time. If in doubt, the easiest way to check for doneness is to partially cut one scallop with a sharp knife. If it is still moist but hot inside, they are done. Technically, four ounces of scallops per person is sufficient. However, in my family, it never seems to be enough, which is why I provide the option of using 1 to 1-1/4 pounds. Either way, make certain that each person is served the same amount of scallops. You might need to purchase a few extra to even out the portions.