Roasted Boneless Turkey Breast with Red Wine and Dijon Sauce
Serves 4 to 6
This roasted turkey breast recipe is easy, healthy and delicious. It is quick enough for a weeknight, but makes an elegant presentation for entertaining. It is also economical if, like me, you purchase whole fresh turkey breasts when they are on sale, remove the breast halves, use one, freeze the other, as well as the carcass, which can be used later for broth or soup. I prefer to roast the breast with the skin on to help keep the meat moist. If you prefer, it can be removed before slicing and serving.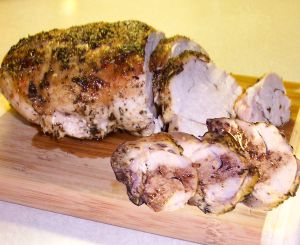 Ingredients
1 boneless turkey breast half, about 2 pounds, with skin
Salt and pepper to taste
1 teaspoon dried thyme leaves
1 teaspoon dried rosemary leaves
1 teaspoon dry rubbed sage
1 tablespoon olive oil
1 cup dry red wine
1 cup low-sodium chicken broth or water
1 teaspoon Dijon mustard
Preheat oven to 350° F. For even roasting, tie the breast into a fairly even roll with butcher's twine. Season all over with the salt, pepper, thyme, rosemary and sage. Heat an ovenproof skillet or sauté pan, large enough to hold the turkey over medium-high heat. Add the oil, then the turkey skin-side down. Sear until lightly browned, about 3 minutes. Turn and sear other side about 1 minute. Place in the oven and roast, basting with pan juices every 15 minutes, until meat thermometer registers 160° to 165°, about 1 hour. Place turkey on a cutting board and tent with foil. Let rest for about 10 minutes.
Meanwhile, make the sauce. Place the pan over a medium-high burner. (Do not forget that the handle is hot. Place an oven mitt or towel on it so that you do not burn your hand.) Add the wine and bring to a boil, scraping up any browned bits in the bottom of the pan. Add the water or broth and bring back to a boil; cook for about 4 minutes. Stir in the mustard and continue to cook until reduced by about one-half. Remove the twine from the turkey and slice into about 1/2-inch slices. Place on individual plates, drizzle with some of the sauce and serve immediately.