Classic Caesar Salad
Serves 6 to 8 as a side dish
I got this recipe years ago from my brother who was an excellent chef. It is the traditional way to make Caesar salad dressing and, in my opinion, it is the best. There is the issue of the raw egg. I do not really have a problem with that, so long as the egg is very fresh and the shell is completely intact. However, for safety, you can use a pasteurized egg, which I do when serving elderly or those with health issues. Alternately, you can use my newer version without egg, which is in the similar and related recipes. It tastes very much like the original. Homemade croutons can be made in a fry pan or in the oven. Use a firm bread, such as French, Italian or any rustic white or multigrain loaf. Flavor with olive oil, garlic, and Parmesan cheese. I take bits and pieces of leftover bread, cut them into cubes and freeze until I need them for a recipe like this. Caesar salad is equally good as a light main dish with some crusty bread on the side, in which case this recipe serves three or four.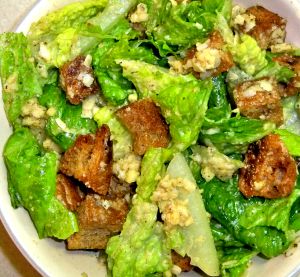 Ingredients
4 to 6 cloves garlic, finely minced
6 to 8 anchovy filets, finely chopped
1 large egg (see comments above)
1 teaspoon Dijon mustard, more if needed
1 teaspoon Worcestershire sauce, more if needed
Juice of 1 medium-sized lemon
Freshly ground pepper
Approximately 1/2 cup olive oil
1 large head Romaine lettuce, cleaned, broken into large pieces, dried and chilled
Freshly grated Parmesan cheese
Approximately 2 cups croutons
Use a large salad bowl, preferably wooden. Rub the garlic all over the inside of the bowl using the back of a spoon to crush pieces. Do the same with the anchovies. Add the egg and beat well. Stir in the mustard, Worcestershire sauce, lemon juice and pepper. Taste and adjust as needed, keeping in mind that the flavors will mellow when the oil is added. Gradually add olive oil, beating well with a whisk to emulsify. (The amount of oil depends on the size of the lemon and taste. I always take a crouton, dip it into the dressing at this point, taste for seasonings and add more oil if needed.) Just before serving, add lettuce, cheese, croutons and more pepper. Toss well. Place in individual bowls and serve, passing additional pepper and cheese.
Notes: The dressing can be made several hours ahead and refrigerated until needed. The entire salad can be assembled an hour ahead, and refrigerated without tossing until serving, adding the croutons at that time. You can make a smaller amount, halving the ingredients, including the egg. Alternately, make the entire amount of dressing and store extra in the refrigerator for up to three days.