Eggless Caesar Salad
Serves 4
I love Caesar salad and grew up making it the traditional way with an egg, lots of olive oil, croutons fried in more oil and an ample amount of Parmesan cheese. That version is in the similar and related recipes. It is delicious, but not something I want to indulge in very often. I decided to revise the recipe so I can enjoy it more often, not just on rare occasions. This is what resulted and it is absolutely delicious. I eliminated the egg, cut back on the oil, baked the croutons and used less dressing and cheese overall. The salad is lighter and easy enough for a busy weeknight but still as delicious and satisfying as the original. See the notes below for a few helpful tips.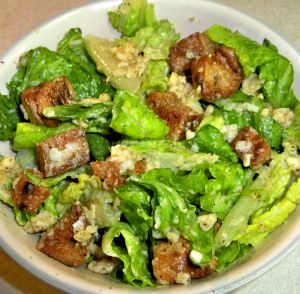 Ingredients
2 large cloves garlic, finely minced
1/2 teaspoon anchovy paste
1 tablespoon Dijon mustard
1/2 teaspoon Worcestershire sauce
Juice of 1 medium lemon
Freshly ground pepper
1/4 cup freshly grated Parmesan cheese, plus more for serving
1/4 cup olive oil, more if needed
1 package (about 9-ounces) prewashed hearts of romaine leaves, torn into medium pieces
About 2 cups croutons, preferably homemade (see notes below)
In a large salad bowl, mix together the garlic, anchovy paste, mustard, Worcestershire sauce, lemon juice and pepper. Gradually add olive oil, whisking constantly to emulsify. Add the 1/4 cup cheese and taste. Adjust as needed, adding more of the anchovy paste, mustard or Worcestershire sauce for more flavor, or a little more oil if the dressing is too tart. Add the lettuce, additional Parmesan cheese, pepper and the croutons. Toss and serve immediately.
Notes: If you know the salad will set for a short time while you finish preparing other dishes, do not add the croutons until just before tossing and serving. For homemade croutons, cut 3 or 4 slices of firm bread (I use rustic whole wheat) into small cubes. Place on a baking sheet. Spray lightly with olive oil cooking spray. Sprinkle with garlic powder and toss. Bake in a preheated 375° oven until crispy, about 20 minutes, checking and tossing occasionally to make certain they do not get too brown. They can be made early in the day or a day ahead and stored in an airtight container at room temperature.