Italian Potato Salad
Serves 4 to 6
This is a delicious, healthy and very easy potato salad recipe. It is best prepared several hours ahead so the flavors have time to soak into the potatoes. However, I have made it and served it warm and it was still very good. The ingredients are approximate because it depends on the absorbency of the potatoes. Taste after it sets for about 30 minutes and add more vinegar or oil if needed. I never peel the potatoes for potato salad because they add flavor and nutrition, but that is optional. The Italian family who taught me to make this recipe always sliced the potatoes and layered them with the onions. However, I usually purchase baby potatoes and halve them, as in the picture and the variation noted below.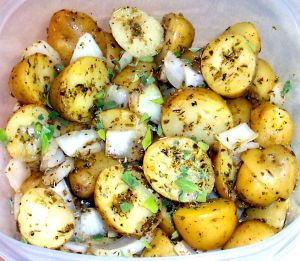 Ingredients
2 pounds boiling potatoes, such as Yukon Gold, scrubbed (about 6 medium)
1 large onion, preferably sweet, quartered and sliced
Salt and pepper to taste
1 tablespoon dried oregano leaves, more if needed
3 tablespoons red wine vinegar, more if needed
3 tablespoons olive oil, more if needed
Cook potatoes in lightly salted water until just tender when stabbed with a fork, about 20 minutes depending on size. Drain immediately and allow to cool slightly. Cut into 1/4-inch slices. (You can peel if desired, but I prefer the skins on.) Place in shallow serving dish in layers, adding onion slices, seasoning, vinegar and oil to each layer. Cover and let stand at room temperature for several hours, tasting after about 1 hour for additional seasoning. Stir gently so as not to break the slices.
Variation: Cut baby potatoes in half or larger potatoes into cubes before cooking. Drain when tender and place in large bowl. Mix in chopped onion, seasonings, vinegar and oil. Let stand, as above, but stir occasionally to ensure that all is well-combined.
Notes: Sometimes, just before serving, I add a little chopped fresh parsley for color. You can use fresh oregano, but go easy, as the flavor is rather strong. It is important with this salad, as with most potato salads, that the potatoes are not overcooked or they will mash when stirred. On the other hand, I did not cook the potatoes long enough one time and that was worse than overcooking. This salad is very good leftover and can be refrigerated for several days. Bring to room temperature before serving.