Pasta and Parmesan Cheese Salad
Serves 6
This pasta salad recipe, which came from my mother, is one of our family favorites. Mom served it for family meals during the warmer months and frequently included it on buffets for larger gatherings and special occasions throughout the year. People who taste it for the first time often request the recipe. This salad is perfect for a potluck event. As a matter of fact, I have a friend who made this salad for a church supper, making eight times the amount. Everyone raved about it. The Parmesan cheese is what gives the salad its unique flavor and the tomatoes add an unexpected burst of freshness. See the notes below for some tips and suggestions.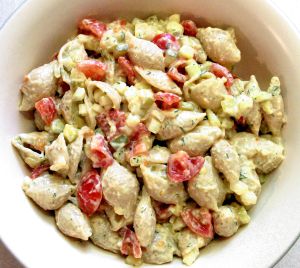 Ingredients
8 ounces elbow macaroni or pasta shells, cooked al dente and drained
3/4 cup chopped celery
1/3 cup chopped onion
1/3 cup chopped dill pickles
1/2 cup grated Parmesan cheese
1 teaspoon prepared yellow mustard
Salt and pepper to taste
3/4 cup mayonnaise (can use light or canola)
1 cup chopped tomatoes
Combine all ingredients, preferably while pasta is still warm, except the mayonnaise and tomatoes; toss lightly. Add the mayonnaise and mix well. Refrigerate for at least several hours or overnight. Before serving, add the tomatoes and toss. Bring to room temperature. Taste for seasoning and, if needed, add a little more mayonnaise or cheese.
Notes: If you are serving the salad within several hours, you can add the tomatoes in the beginning. I prefer to use halved cherry or grape tomatoes. Since the dill pickles and cheese are salty, taste carefully before adding salt to the salad. I usually add a little of the pickle juice and, when it is in season, some chopped fresh dill. To make life a little easier, jarred dill cubes can be used. Other pasta shapes, such as small penne rigate or larger elbows can be used. As for the Parmesan cheese, Mom's original recipe called for the canned variety. At the time, we thought it was very good, and I would not hesitate to use it in this recipe. However, I now prefer freshly grated cheese of higher quality, such as Parmigiano-Reggiano. It costs more, but you will need less because it has so much flavor. The choice is yours. This recipe can easily be made in any amount.