Creamy Macaroni Salad
Serves 6 to 8
There are all sorts of delicious recipes for pasta salads, including those in the similar and related recipes. However, once in a while it is refreshing to make a creamy American-style macaroni salad like many of us grew up with. All of the ingredients in this recipe can be adjusted or varied to taste and serving amounts needed.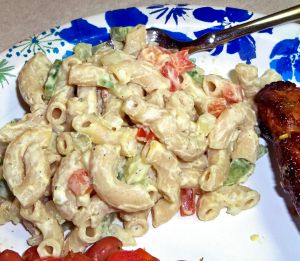 Ingredients
8 ounces elbow macaroni or small shells (can use multigrain or whole wheat)
3/4 cup finely chopped celery
1/4 cup finely chopped green bell pepper
1/2 cup finely chopped red bell pepper
1/4 cup finely chopped onions
2 tablespoons chopped dill pickles
Salt and pepper to taste
2 teaspoons yellow prepared mustard (more or less to taste)
1/4 cup mayonnaise (can use light or canola)
1/2 cup sour cream (can use reduced fat)
Cook macaroni in lightly salted water according to package directions for al dente. Drain and rinse briefly under cold water to stop the cooking process. Place in bowl and add the celery, peppers, onions, dill pickles, salt and pepper; toss well to combine. Add the mustard and toss again. Add the mayonnaise and sour cream, starting with a little less and adding more as desired. If time allows, let the salad set for at least 30 minutes, or longer in the refrigerator, to allow the flavors to blend. I prefer macaroni salad served at or close to room temperature, but many people prefer it chilled.