Creamy Dilled Potato Salad
Serves 8
This is my favorite recipe for American potato salad with a creamy base. I love the addition of sour cream in place of some of the mayonnaise, as it mellows the flavor. Use this recipe as a starting point, then alter it as desired. See the notes below for some suggestions. This easy and delicious potato salad can be made in any amount needed.
Ingredients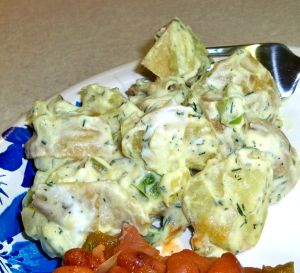 4 pounds potatoes, scrubbed or peeled, about 8 medium
3/4 cup chopped onion, about 1 medium-sized onion
1 cup dill pickle cubes (or diced dill pickle)
1/4 cup dill pickle juice
1 tablespoon chopped fresh dill weed (optional)
Salt and pepper to taste
1 tablespoon prepared yellow mustard
1-1/2 cups finely chopped celery
1/2 cup finely chopped green pepper
1/2 cup mayonnaise (can use light or canola)
1/2 cup sour cream (can use reduced-fat)
2 hard-cooked eggs (optional garnish)
Fresh dill weed (optional garnish)
Cook potatoes in lightly salted water until tender. Cut into 1-inch cubes. Meanwhile, stir together the onion, pickle cubes, pickle juice, chopped dill weed, salt, pepper, mustard, celery and green pepper. Add to hot potatoes and toss well to combine. Cover and refrigerate about 1 hour. Stir in the mayonnaise and sour cream until well-combined. Taste for seasoning; add more dill, salt, pepper, mayonnaise or sour cream if needed. Top with sliced eggs and dill weed. Serve cold or room temperature (room temperature is best).
Notes: Potato salad can be made one day ahead and refrigerated. I like to use Yukon gold potatoes for salads, but any waxy or boiling potato works well. If you have a problem with dill, omit the dill pickle cubes and replace the pickle juice with lemon juice. Alternately, some people prefer sweet pickles in salads. My father loved celery seed, so my mother always substituted that for the chopped celery. And her recipe called for 1/2 teaspoon dried mustard instead of prepared. Obviously, you can play around with this recipe. I remember watching an old Justin Wilson cooking show where he substituted saltines for the potatoes. Go figure.