Tomato and Bread Salad (Panzanella)
Serves 6
You really must try recipe this when tomatoes are in season. I was making tomato salad for years, like the one in the similar and related recipes, before I tried it with the bread. It is easy, quick and so delicious. Use any tomatoes that are very tasty at the time. It can be regular red, cherry, grape, yellow, heirloom, or a combination. Tomato and bread salad is great for a weekday family meal or entertaining, as well as a picnic or potluck event. However, take the ingredients in separate containers and toss together when you get there.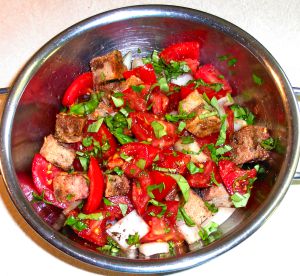 Ingredients
3 cups crusty, rustic bread, cut into 1-inch cubes
2 pounds ripe tomatoes, chopped into 1-inch pieces
1 small sweet onion, sliced thin and cut in half
4 tablespoons shredded fresh basil
3 to 4 tablespoons balsamic or red wine vinegar
3 to 4 tablespoons olive oil
Salt and pepper to taste
Place the bread cubes in an oven set at 325° F. Toast until crisp and slightly browned, turning occasionally, 15 to 20 minutes. Place in a medium bowl. Add the remaining ingredients and toss to combine. Taste for seasoning. Let set for 10 to 15 minutes to allow the flavors to combine and the croutons to soak up the juices. Serve at room temperature.
Notes: If desired, substitute garlic for the onions. I always use whole wheat or multigrain bread, but you can use any rustic, crusty bread you prefer. The recipe can be made in any amount needed.