Grilled Shrimp Sandwiches with Creamy Slaw
Makes 2 Large Sandwiches
This shrimp sandwich recipe, my version of a Po' Boy, is very quick, easy, healthy and delicious. Serve the sandwiches on a busy weeknight or for casual entertaining when you want something special and a little different. The shrimp can be grilled indoors or out or, if grilling is not an option, sautéed, broiled or roasted. To keep it lighter and healthier, I use reduced fat yogurt and sour cream in the cabbage slaw without compromising flavor or texture. Despite the number of ingredients, the sandwiches come together very quickly. The recipe can be made in any amount needed.
Ingredients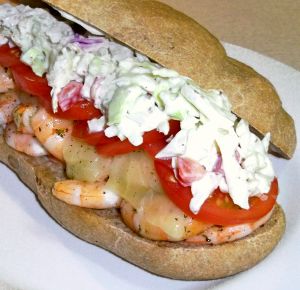 Slaw
2 tablespoons plain Greek yogurt, preferably reduced or nonfat
1 tablespoon sour cream, preferably reduced fat
1 teaspoon mayonnaise, preferably light or canola
1/2 teaspoon Dijon mustard
2 teaspoons apple cider vinegar
1 teaspoon granulated sugar
1/2 teaspoon celery seed
Salt and pepper to taste
4 ounces packaged shredded cabbage for slaw (or shred your own)
2 tablespoons finely chopped onions
2 tablespoons finely chopped red peppers
Sandwiches
12 ounces medium shrimp, peeled and deveined
Juice of one-half lemon
Salt and pepper to taste
2 teaspoons olive or canola oil
Crusty hoagie or sub rolls, preferably whole wheat
Thinly sliced cheddar cheese (optional)
Thinly sliced tomatoes
Hot pickled peppers (optional)
For the slaw, in a medium bowl mix together the first 8 ingredients until well-blended. Taste for seasoning, adjusting vinegar or dairy for more or less tang. Add the cabbage, onions and peppers. Toss to combine. Set aside. (Can be made up to one day ahead and refrigerated; bring to room temperature before serving.)
For the shrimp, marinate the shrimp in the lemon juice, salt, pepper and oil for up to 30 minutes. Meanwhile, heat a grill pan on high heat. Add the shrimp and grill for 3 minutes, then flip and cook just until pink. Remove some of the bread from the inside of the rolls and lightly toast the cut side on the grill or under the broiler. Place shrimp in one layer on the bottom halves of the rolls. Top with cheese if using and return to broiler to melt. Top with tomato slices, then slaw and optional hot peppers. Cover with the top roll and serve immediately.
Notes: This recipe makes an ample amount of slaw for two sandwiches. Extra can be served on the side or saved for the next day.