Hamburger Barbecue Sandwiches (Sloppy Joes)
Makes 6 sandwiches
When I lived in Pennsylvania, we called them Hamburger Barbecues. Many other areas know them as Sloppy Joes. The name is different, but the sandwich is the same. As tempting as it may be to use a store-bought sauce, it is so easy to make your own and it tastes so much better. Use this recipe as a reference, and then adjust to your own taste. If you like a sweeter sauce, add more brown sugar. If you prefer a thicker sauce, add less water. If you want more sauce, add more of everything. You can even use tomato sauce or puree in place of the paste and water. It all depends on what you have on hand at the time. This recipe is so quick and easy you will never use canned sloppy joe sauce again. For a version made with ground turkey, see the similar and related recipes.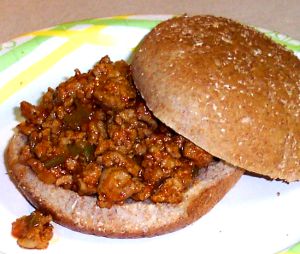 Ingredients
1-1/2 pound lean ground beef
1 small onion, finely chopped
1/2 green bell pepper, finely chopped
Salt and pepper to taste
4 tablespoons tomato paste
1 teaspoon Worcestershire sauce
1 teaspoon prepared yellow mustard
1 tablespoon cider vinegar
1 tablespoon brown sugar
1 cup water (start with less, add more as needed)
6 hamburger buns
Relish or mustard (optional garnishes)
Brown the beef in a large skillet over high heat. Drain off any excess fat. Reduce heat to medium-high; add the onions, green peppers, salt and pepper. Sauté until the onions and peppers are softened, about 5 minutes. Add the tomato paste, Worcestershire sauce, mustard, vinegar and brown sugar. Stir to combine. Add water until the sauce is the desired thickness. Reduce heat to medium-low; cover and simmer about 10 minutes so the flavors combine. Taste and adjust as needed. Serve on buns, garnished with relish and/or mustard if desired.