Turkey Sloppy Joes
Makes 4 to 6 sandwiches
Every now and then I get hungry for hamburger barbecues, sometimes known as sloppy joes, as in the similar and related recipes. However, I prefer the flavor of ground turkey to beef, so I created this version of the sandwich. Use this recipe and adjust to your own taste. If you like it sweeter, add more brown sugar. If you prefer a thicker sauce, add less water. If you want more sauce, add more of everything. Sloppy Joes are a quick, easy, healthy and delicious main dish for a family dinner on a busy weeknight or casual entertaining.
Ingredients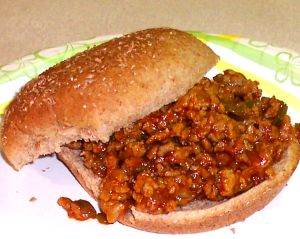 2 teaspoons canola or olive oil
1 to 1-1/2 pounds ground turkey (see notes below)
1 small onion, finely chopped
1/2 small green bell pepper, finely chopped
1/2 small red bell pepper, finely chopped
Salt and pepper to taste
4 tablespoons tomato paste, preferably no-salt-added
1 teaspoon Worcestershire sauce
1 teaspoon prepared yellow mustard
1 tablespoon apple cider vinegar
1 tablespoon brown sugar, more or less to taste
1 cup water (more or less)
6 hamburger buns, preferably multigrain or whole wheat
Sweet pickle relish and/or mustard (optional garnishes)
Add the oil to a 10-inch, preferably nonstick skillet. Heat over medium-high heat. Add the turkey and sauté until no longer pink, about 5 minutes, breaking it apart as it cooks. Add the onions, peppers, salt and pepper. Sauté until the onions and peppers are softened, about 5 minutes. Add the tomato paste and stir well to combine, then add the Worcestershire sauce, mustard, vinegar and brown sugar. Stir again to combine. Add water until the sauce is the desired thickness. (Start with less water and add more later as needed.) Reduce heat to medium-low; cover and simmer about 10 minutes so the flavors combine. Taste and adjust as needed. Serve on buns, garnished with relish and/or mustard if desired.
Notes: The turkey I buy is sold in 1-1/3 pound packs. For this recipe, you can use anywhere from 1 to 1-1/2 pounds without adjusting anything else except the number of sandwiches the recipe yields. Also, I prefer to use turkey that is 93% lean, but you can use leaner if desired. If you do not use a nonstick skillet, you need to heat the pan before adding the oil and probably use a little more. Tomato paste has a natural sweetness so you really do not need to add much brown sugar. You can always start with less and add more after everything is combined. Leftovers reheat very well in a skillet or in the microwave.