Homemade Hot Dogs (Healthy and Lean)
Makes about 18 hot dogs
My mother loved hot dogs but, when she had to be cautious about sodium intake, could not eat them as often as she wanted. So, I decided to take on the challenge of making a homemade version, which worked for me because I prefer low-sodium foods. It was quite a task. Surprisingly, getting the correct flavor was fairly simple. It was the texture that posed a problem. The first time I used the grinder attachment to my stand mixer. The grinding disk just was not fine enough. We had very tasty, but very coarse sausages. Then I decided to use the food processor with the steel blade. It worked well. You can process it very fine, though it is still not quite as fine as store-bought. I added the egg whites to help bind the mixture. Although I have a sausage maker attachment for the mixer, I have not dealt with using casings as yet. However, that is a good thing because anyone who owns a processor can make these hot dogs. The hot dogs are precooked in boiling water, just like those you purchase. The ingredient list might seem lengthy and the preparation complicated, but it is really very easy. If you use lean ground pork and/or turkey, these hot dogs are low in fat, low in sodium, preservative-free and delicious. My mother was very happy and actually preferred these to commercial hot dogs. Mom is gone now, but I continue to make these hot dogs for family and friends.
Ingredients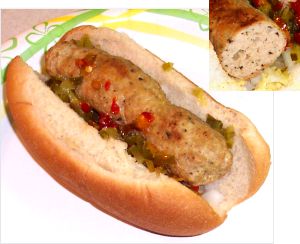 (Pictured without casings.)
1 cup old-fashioned rolled oats
1 pound lean ground pork (see notes below)
1 pound lean ground turkey (see notes below)
2 large egg whites, lightly beaten
1 tablespoon garlic powder
1 tablespoon onion powder
4 teaspoons ground dry mustard
1-1/2 teaspoons dried thyme leaves
1 teaspoon ground nutmeg
1 teaspoon ground mace
1 teaspoon ground sweet paprika
1 teaspoon salt (see notes below)
1-1/2 teaspoons freshly ground black pepper
Grind the oats in a large processor until fine. Remove. (If you have a mini-processor, use it for this step. It grinds the small amount of oats better than the large processor.) Place the ground pork and turkey in the processor. Process until very fine, using the pulse button occasionally. Add the oats and remaining ingredients. Continue to process until a paste, making certain the mixture does not start to heat from the motor. (To taste for seasoning, form a small amount into a little patty. Cook in a small skillet or in the microwave until thoroughly cooked. If needed, add more salt, pepper or spices to the meat in the processor and process again.) Transfer the mixture to a large bowl, stirring well to make certain all of the seasonings are combined. Cover and refrigerate for 1 to 2 hours.
There are several choices for forming the hot dogs. As stated above, they can be passed through a sausage maker using hot dog-sized casings, twisting at about 6-inches to form links. (I will try that soon, because I do like the 'snap' when biting into a hot dog with casing.) Alternately, you can shape the meat into patties for use in hamburger buns. That would be a little easier to handle, but I like the traditional hot dog shape in a hot dog bun. Take 2 ounces of the meat and shape into a ball. Roll each ball between your hands until it forms a log about 5 inches long, making certain it is fairly uniform from top to bottom. (Do not roll the hot dogs too thin because, without the casing, they might break apart when cooking.) Place on a baking sheet lined with waxed or parchment paper.
Place half of the hot dogs in a large skillet. Add enough water to come almost halfway up the meat. Bring to a boil over high heat. Reduce heat to medium and simmer, gently turning occasionally with tongs, until thoroughly cooked, about 15 minutes, depending on size and thickness. Place on a clean baking sheet lined with paper towels to dry. Proceed with the remaining sausages. At this point, the hot dogs can be grilled or browned in a skillet for immediate serving. Alternately, they can be individually wrapped, placed in plastic bags and refrigerated for several days, or frozen for up to 6 months, just like you would do with store-bought hot dogs.
Notes: If you are concerned about using the oats as a filler, don't be. They only help to bind the meat with no noticeable flavor or texture while adding some beneficial nutrients and fiber. You can substitute quick oats, but not instant. The pork I use is 90% lean, and the turkey is 93% lean. You can use leaner, as well as just one type of meat. If your store packs ground pork or turkey in slightly larger amounts, it will not make a difference in the other ingredient amounts. Just cook a piece and taste for seasoning as noted above. As for the salt, I always cook with kosher salt. A teaspoon of kosher salt is less than a teaspoon of table salt since the grind is coarser. Furthermore, I have become accustomed to using much less than indicated. Adjust the amount of salt to your taste, using less if you are on a very strict low-sodium diet or more if you prefer a saltier hot dog. Remember, you can add any seasonings after tasting, but you cannot take them out so, when in doubt, start with less.