Baked Fish Fillets with Tomatoes, Peppers and Onions
Serves 4
This recipe is absolutely delicious, as well as quick, easy and healthy. Use any white-fleshed fish that is available and perfectly fresh. My favorites baking are catfish, halibut, tilapia or cod. I use cherry or grape tomatoes when regular varieties are out of season and tasteless. This recipe can be made in any amount. See a skillet version with marinara sauce in the similar and related recipes.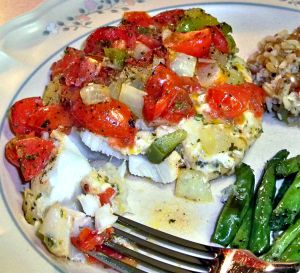 Ingredients
4 firm, white-fleshed fish fillets, about 6 ounces each
Olive oil, about 1 tablespoon
3/4 cup chopped green bell peppers
3/4 cup chopped onions
1 large garlic clove, minced or finely chopped
1 cup chopped ripe tomatoes, about 1 large tomato
Juice of 1/2 lemon
1 tablespoon chopped fresh parsley
1 tablespoon chopped fresh basil
Salt and pepper to taste
Preheat oven to 400° F. Heat about 2 teaspoons of the olive oil in a large nonstick, ovenproof skillet over medium-high heat. Add the peppers and onions and sauté until slightly softened, about 3 minutes. Add the garlic and sauté another minute. Add the tomatoes; stir, remove pan from the heat and cool about 5 minutes. Place fish fillets in the skillet and spoon the tomatoes and vegetables over the top. Sprinkle with parsley, basil, lemon juice, salt, pepper, and drizzle with the remaining 1 teaspoon olive oil. Bake for 15 to 20 minutes or until fish flakes with a fork.
Notes: The fresh tomato can be substituted with one can (14.5-ounces) diced tomatoes, drained. I prefer 'no salt added' tomatoes because they taste fresher. A little freshly grated Parmesan cheese can be added on top before baking or passed separately.