Fish Fillets with Marinara Sauce
Serves 4
The first time I made this seafood recipe everyone in the family, except me, had colds. They were starting to feel better, tired of soup, but still wanted to eat light. This seemed to do the trick and was quick, easy, healthy and delicious. Technically, the fish is poached in the tomatoes. I usually use cod in this recipe because its flavor works well with the sauce, and its texture stands up to the cooking method, but any firm, white-fleshed fish will do. Serve with rice or small-shaped pasta, such as couscous or orzo, topped with some of the tomato sauce.
Ingredients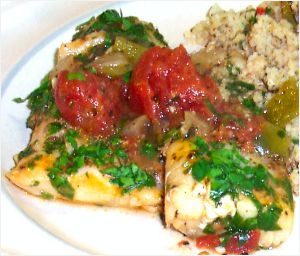 2 tablespoons olive oil
1/2 large onion, chopped
1/2 large green pepper, chopped
3 large cloves garlic, minced
2 cans (14.5 ounces each) whole tomatoes, broken apart, with juices
2 teaspoons dried oregano
1 teaspoon fennel seed
1/4 cup dry white wine
1/4 cup balsamic vinegar
Salt and pepper to taste
4 cod or other firm, white-fleshed fish fillets, about 6-ounces each
2 tablespoons chopped fresh parsley
Heat the olive oil in a large skillet over medium heat. Add the onions and peppers; sauté until slightly softened, about 5 minutes. Add the garlic and sauté another minute. Add the tomatoes, oregano, fennel seeds, wine, vinegar, salt and pepper. Simmer until slightly reduced, about 5 minutes. Lay the fish on top of the sauce. Sprinkle with salt and pepper. Spoon some of the tomatoes on top. Cover partially and let cook until the fish flakes easily with a fork, about 10 minutes, depending on thickness. Serve immediately, topping the fish with some of the sauce and a sprinkle of fresh parsley.