Lobster Tails Sautéed in Butter
Serves 4
I absolutely love lobster but, because of the cost, I reserve it for a special occasion or entertaining. When the tails are on sale, I purchase extra and freeze them for several meals. Occasionally, I really splurge and make a surf and turf with a small lobster tail and filet mignon. That is extravagant, but much less costly than in a restaurant. After trying different methods for cooking small lobster tails, this is one of my favorites. It is quick, easy and the meat is never over or under cooked. It is also easier for guests since the shell is removed before cooking. See the similar and related recipes for grilled or broiled lobster tails, another favorite. This recipe can be made in any amount needed.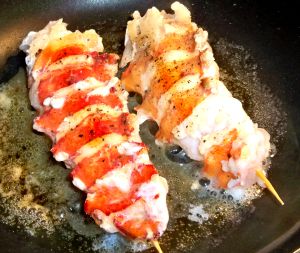 Ingredients
8 small lobster tails, about 4 ounces each
4 tablespoons butter
Salt and pepper to taste
Cut through the center of the underside of the tail. Remove the meat, using a fork if necessary to loosen it from the shell, pulling the meat from the wide end to the tail tip.
Heat the butter in a large fry pan over medium-high heat. If desired, let the butter brown, but be careful not to burn. Season the lobster with salt and pepper. Sauté until cooked through, about 5 minutes, turning a couple times to cook evenly. Serve immediately, spooning a little of the hot butter over each tail.
Notes: If desired, thread each tail lengthwise on a wooden skewer as shown in the photo to prevent them from curling when cooking. Remove the skewers before serving. Cook the discarded lobster shells in water, strain and freeze the broth for your next seafood chowder or sauce.