Grilled or Broiled Lobster Tails with Garlic Butter
Serves 2
I love lobster and usually reserve it as a special treat. However, when the tails are on sale, I buy some to freeze for later use. This recipe has become one of my favorite preparations because it is light, simple and absolutely delicious. It is quick and easy enough for any day, but makes a special presentation for elegant entertaining. The recipe can be made in any amount and will work with any size tails, adjusting the cooking time as needed.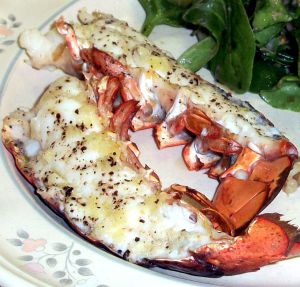 Ingredients
2 lobster tails, about 6 ounces each
1 large clove garlic, minced
1 tablespoon butter, preferably unsalted
Salt and pepper to taste
Preheat grill or broiler to high. (If broiling, position the oven rack about six inches from the broiler element.)
Split the lobster tails lengthwise, cutting from the soft side. (A good knife will work, but kitchen shears make the job easier.) Using your fingers, loosen the meat from the shell, keeping it intact at the fan end so it doesn't fall out. If broiling, place the tails, cut side up, on a baking sheet lined with foil for easy cleanup. (If grilling, you will start cooking with the cut side down.)
Place the garlic and butter in a small microwavable bowl. Heat just until the butter is melted and the garlic is slightly softened, about 20 to 30 seconds. Generously brush the garlic butter over the tops of the tails. Season with salt and pepper. Grill or broil until the shells start to turn red, about 4 minutes. Flip the tails and grill or broil for an additional 2 minutes. Serve immediately.
Notes: If the tails you find are smaller, make two per person. If desired, the meat can be removed from the shells before serving. However, I think it makes a prettier presentation if left in the shells. Although I think this is best served as is, you can make a little extra hot garlic butter for drizzling over the cooked lobster.