Broiled Shrimp with Garlic Butter
Serves 4
This broiled shrimp recipe is a quick, easy and delicious main dish for a family meal, special occasion or entertaining, but is equally appropriate as a first course. As a main dish, serve it with rice or noodles drizzled with the extra butter. As a first course, serve with some crusty bread on the side. The recipe can be made in any amount needed.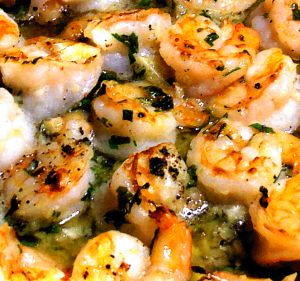 Ingredients
4 tablespoons butter, preferably unsalted
2 teaspoons minced fresh garlic
1-1/2 pounds medium or large shrimp, peeled and deveined
Salt and pepper to taste
2 tablespoons chopped fresh parsley
In a broiler-proof skillet large enough to hold the shrimp in one layer, melt the butter with the garlic over medium-low heat for about 5 minutes, or just until it starts to sizzle. Remove from the heat.
Place the upper oven rack as close to the broiler as possible. Preheat broiler to high. Add the shrimp to the pan. Season with salt, pepper and parsley. Stir to coat the shrimp with the melted butter. Broil until the shrimp just turns pink on one side, then turn and broil the other side. Serve immediately, drizzling the garlic butter over the shrimp.