Shrimp Scampi (Shrimp with Garlic Butter Sauce)
Serves 4
I suppose everyone has heard of Shrimp Scampi, but you might not know what the title means. Scampi is the Italian word for shrimp so, technically, the title translates to 'Shrimp Shrimp'. I do not know the exact origin of the name, but it is commonly used in restaurants and cookbooks so that it is recognized as the Italian shrimp dish made with a garlic butter sauce. Whatever you call it, this recipe is a quick, easy and delicious main dish for a busy weeknight, special occasion or entertaining. For something similar, see the Broiled Shrimp with Garlic Butter in the similar and related recipes.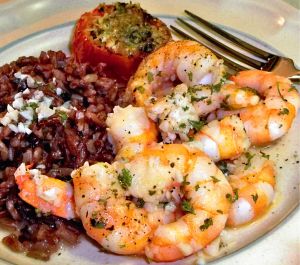 Ingredients
2 tablespoons butter, preferably unsalted
2 tablespoons olive oil
1-1/2 pounds large shrimp, peeled and deveined
4 large garlic cloves, minced
Juice of one lemon
1/4 cup dry white wine or vermouth
Salt and pepper to taste
2 tablespoons chopped fresh parsley
Heat the butter and oil in a large skillet over medium-high heat. Add the shrimp and sauté until they begin to turn pink, tossing several times. Add the garlic and sauté an additional minute. Add the lemon juice and wine and reduce for about 1 minute. Add the salt, pepper and parsley. Toss well; serve immediately. Shrimp scampi is delicious served with rice or pasta and crusty bread to soak up the sauce.