Shrimp with Cherry Tomatoes
Serves 2 or 3
I love shrimp. They make a super quick, easy and, in most preparations, healthy main dish that can be served for a family dinner or a special occasion. I have quite a few recipes for shrimp, but every now and then I want to try something different. When I developed this recipe, I had cherry tomatoes on hand that needed to be used. I knew they would be delicious with the shrimp and a very simple dish to prepare. Use any variety of medium-sized cherry or grape tomatoes that you prefer. I have made this with all red tomatoes, as well as a combination of colors for a more eye-catching presentation. For two servings, I always use a pound of shrimp, but it really can serve three people.
Ingredients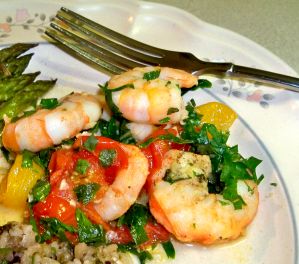 1 pound large shrimp, peeled and deveined, peels reserved
1 tablespoon olive oil
1 pint cherry or grape tomatoes, rinsed and dried
Salt and pepper to taste
2 large garlic cloves, minced
1/2 cup shrimp broth from reserved peels (see notes below)
1 tablespoon chopped fresh parsley
1 tablespoon chopped fresh basil
1 lemon
Heat the olive oil in a medium skillet over medium-high heat. Add the tomatoes, salt and pepper and sauté just until the tomatoes start to soften, about 3 minutes. Add the garlic and sauté one more minute.
Add the shrimp broth. Cook until the juices have reduced slightly and the tomatoes start to burst, about 3 minutes, adding more shrimp broth or a little water if the pan starts to dry out. Add the shrimp. Season with additional salt and pepper to taste. Continue to cook until the shrimp turn pink, about 3 more minutes, turning the shrimp half way through. Add the parsley, basil and a little fresh lemon juice. Serve immediately with rice, pasta or other grain topped with some of the pan juices.
Notes: To make your own shrimp broth, cook the shrimp peels in enough water to cover for about 20 minutes. If desired, add a lemon half and/or dry white wine while cooking for extra flavor. Strain and refrigerate until needed. Alternately, you can use store-bought seafood broth. This recipe can be made in any amount needed. However, if making a larger amount, increase the shrimp by a greater portion than the tomatoes and herbs.