Creamy Fettuccine with Shrimp and Scallops
Serves 4 to 6
This recipe for pasta and seafood is a quick, easy and absolutely delicious Italian-inspired main dish that is perfect for a family meal but special enough for entertaining. See the notes below for some helpful tips. For a different, but equally scrumptious variation, see my Spaghetti with Shrimp and Scallop Tomato Sauce in the similar and related recipes.
Ingredients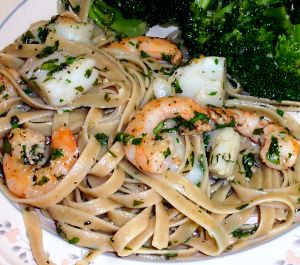 1 pound fettuccine, spaghetti or similar pasta
1/4 cup olive oil
1 pound medium to large shrimp, peeled and deveined
1 pound bay or small sea scallops
6 large cloves garlic, minced (more or less to taste)
1/2 cup dry white wine or vermouth
1/2 cup shrimp broth (see notes below)
1/2 cup cream (see notes below)
2 tablespoons chopped fresh parsley
2 tablespoons chopped fresh basil
1 teaspoon fresh lemon juice
Salt and pepper to taste
Freshly grated Parmesan cheese (optional)
Cook the pasta according to package directions for al dente.
Meanwhile, heat a large sauté pan over medium-high heat. Add 2 tablespoons of the olive oil. Add shrimp, season with salt and pepper, and sauté until they just turn pink. Remove from pan. Add the remaining 2 tablespoons of olive oil and do the same with scallops. (Do not overcook fish). Add garlic to pan and sauté about 1 minute. Add wine and broth; cook on high heat until slightly reduced. Add cream, parsley, basil salt and pepper. Cook to reduce by about one-third. Return shrimp and scallops to pan. Add lemon juice.
Drain pasta, saving about 1/2 cup of the pasta water. Add pasta and reserved cooking water to the sauce. Toss well to combine. Serve immediately, passing cheese separately.
Notes: This recipe is very good with whole wheat or multigrain pasta. If you use sea scallops that are large, cut them into halves or quarters. To make shrimp broth, cook the shrimp shells in water for about 20 minutes, then strain the broth. The amount of cream in this recipe is not that much when divided among four or six people. However, if you want to make keep it lighter, cut down on the amount of cream and add more shrimp broth or pasta water as needed for moisture. Even if you omit the cream entirely, it is still an absolutely delicious dish.