Shrimp and Grits
Serves 4
This recipe for shrimp and grits is a quick, easy and delicious southern main dish. There are two versions of shrimp and grits. One is made with a cheesy cream sauce. This recipe is based on the version made with tomatoes. Serve with buttered or cheese grits, which is in the similar and related recipes.
Ingredients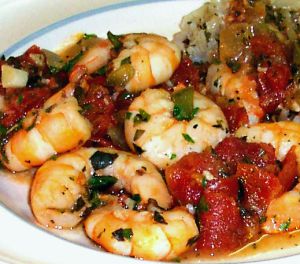 1 teaspoon olive oil
3 slices bacon, cut into 1/2-inch pieces
1/2 cup chopped onions
1/2 cup chopped green bell peppers
2 large cloves garlic, minced
1 can (14.5 ounces) whole tomatoes, crushed with fingers, with juices
1 teaspoon Worcestershire sauce
1 teaspoon hot sauce, or to taste
2 tablespoons chopped fresh parsley (or 1 tablespoon dried)
Salt and pepper to taste
1-1/2 pounds medium or large shrimp, peeled and deveined
Cooked grits, buttered or cheese (see the similar and related recipes)
Heat a medium skillet over medium-high heat. Add the olive oil, then the bacon. Fry until starting to crisp, then add the onions and green peppers. Sauté until vegetables are softened, about 5 minutes. Add the garlic and sauté one more minute. Add the tomatoes, Worcestershire sauce, hot sauce, parsley, salt and pepper. Cook, uncovered, until the tomatoes have broken down, about 5 minutes. Add the shrimp; cover and cook until shrimp turn pink, about 4 minutes. Serve immediately, spooning shrimp and sauce over the grits.