Mom's Chili with Beef and Beans
Serves 6 to 8
My mother made this chili recipe for years. It was a family favorite and very versatile. For a meatier chili, add more meat. For a different chili, used cubed beef instead of ground. If everyone can stand the heat, add a hotter chile powder. I also have a turkey chili recipe, as well as a vegetarian bean chili, both of which were inspired by this recipe and are equally delicious. Those are in the similar and related recipes. The variations are endless. The best chili takes a long time to slowly simmer, but it is easy to prepare and makes a comforting one pot meal.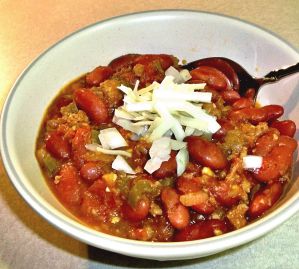 Ingredients
2 tablespoons olive or vegetable oil
1 pound ground beef, chuck or leaner sirloin
Salt and pepper to taste
1 large onion, coarsely chopped
1 large green bell pepper, coarsely chopped
5 large cloves garlic, minced
2 teaspoons ground cumin
1 tablespoon dried oregano leaves
2 teaspoons chili powder
2 teaspoons ancho chile powder
2 tablespoons grated Parmesan cheese
2 large cans (about 26 ounces each) red kidney beans, with juices
1 small can (about 15.5 ounces) red kidney beans, rinsed and drained
2 cans (14.5 ounces each) whole tomatoes with juices, crushed slightly
Heat a large stock pot over medium-high heat. Add the oil, then the ground beef. Brown the beef, breaking into large lumps as it browns. Season with salt and pepper. Add onions, peppers, cumin, oregano, and chili powders; cook until vegetables are tender, about 5 minutes. Add the garlic and cook 1 more minute. Add the Parmesan, beans, tomatoes, and juices. Stir well; cover and cook about one hour. Taste for seasoning and adjust to taste. Cover and cook for an additional hour or until liquid has thickened. (If it needs further thickening, remove the lid while cooking.) Serve as is or with grated sharp cheese and chopped onions as garnish.
Notes: This is even better the next day and can be refrigerated for up to three days. Chili can also be frozen for up to six months.