Chili Soup
Serves 2 to 4 (see comments below)
I love chili, but I only make it several times a year, probably because it tends to be a rather heavy meal best served in fall and winter. So, one time, when I was craving chili in the middle of the summer, I decided I could alter my favorite turkey chili recipe, which is in the similar and related recipes, and transform it from a stew into a somewhat lighter soup. It is absolutely delicious, very easy, relatively quick, and now I can satisfy my chili cravings any time of the year. In my family of hearty soup eaters, this serves two or three people. It can easily serve four if accompanied by a salad or sandwich. For me, however, all this chili soup needs on the side is a slice of toasted crusty bread topped with a little melted cheese or a piece of buttered cornbread to make a satisfying and complete one pot meal.
Ingredients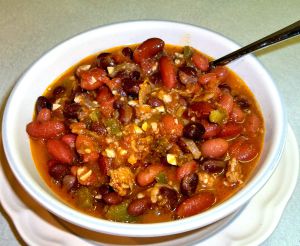 1 tablespoon olive oil
4 ounces ground turkey (see notes below)
Salt and pepper to taste
1 small onion, chopped
1 small or one-half large green bell pepper, chopped
1 tablespoon ground cumin, divided
4 large garlic cloves, minced
2 cans (14-ounces each) whole tomatoes, broken apart with fingers
1 cup water, more if needed
1 can (about 15.5-ounces) red kidney beans, preferably low-sodium or no salt added, rinsed and drained
1 can (about 15.5-ounces) black beans, preferably low-sodium or no salt added, rinsed and drained
1 can (about 15.5-ounces) pink beans, preferably low-sodium or no salt added, rinsed and drained (see notes below)
1 tablespoon dried oregano leaves
1/2 teaspoon ancho chile powder (can use hotter chile powder)
1 small piece Parmesan cheese rind (optional, can use 1 tablespoon grated Parmesan)
Freshly grated Parmesan cheese or other desired chili toppings (optional garnish)
Heat a medium stock pot or Dutch oven over medium heat. Add the olive oil, then the turkey. Lightly brown the turkey, breaking it apart as it cooks. Add the onion and peppers. Season with salt, pepper and some of the cumin. Cook until the vegetables are slightly tender, about 5 minutes. Add the garlic and cook 1 more minute. Add the tomatoes, 1 cup water, beans, oregano, chile powder, remaining cumin and optional Parmesan rind or grated cheese. Stir well, bring to a boil over high heat, reduce heat to low or medium-low, cover and simmer for about 45 minutes. Taste for seasoning, adding more of the herbs and spices if desired, and add water if the soup is too thick. Continue to cook for about an additional 15 minutes. Serve immediately or keep warm over very low heat. If desired, pass grated Parmesan or your favorite chili toppings when serving.
Notes: I use 93% lean ground turkey because I prefer the flavor. If desired, you can use turkey with a lesser or greater fat content or even substitute ground beef. I like the pink beans in this soup, but would not hesitate to omit them, substituting an extra can of kidney beans for a two-bean soup. When I am done with a wedge of Parmigiano-Reggiano cheese, I cut up the rind and freeze to use in soups and stews. As noted, you can use grated Parmesan instead. The recipe can be made in any amount needed. However, when making more, do not increase the amount of water until all of the other ingredients are added, then add the amount of water needed. Leftovers reheat very well and can be frozen. Add a little more water if the leftovers appear too thick when reheated.
Chili-Mac Soup variation: Add more water, then about 1/4-cup elbow pasta during the last 15 minutes of cooking.