Southwestern Bean and Rice Soup
Serves 3 to 4
Even though I love my family's Pennsylvania Dutch foods, I tend to stick with Italian flavors and techniques for everyday cooking. However, I like to visit other cultures now and then. One of my favorite diversions is Mexican or Southwestern cuisine. So, I decided to create this soup. The recipe is very easy, relatively quick, healthy, vegetarian if you use vegetable broth, inexpensive and absolutely delicious. If desired, top the soup with grated Parmesan or other cheese of choice. The recipe can be made in any amount desired, adjusting the seasonings as needed. If you are serving with a sandwich or salad, the soup will easily serve three or four. I usually just serve it with crusty bread and eat lots.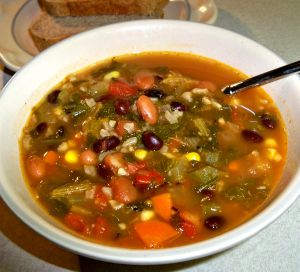 Ingredients
2 tablespoons olive oil
1 small onion, chopped
1 medium carrot, chopped
1 medium celery rib, chopped
1/2 small green bell pepper, chopped
4 large garlic cloves, minced
1 cup low-sodium chicken or vegetable broth
1 can (14.5 ounces) fire roasted tomatoes, crushed with fingers, with juices
4 cups water
1 teaspoon ancho chile powder (or hotter chile to taste)
1 teaspoon ground cumin
1 tablespoon dried oregano leaves
1 bay leaf
Salt and pepper to taste
1 can (15 to 16 ounces) pinto beans, preferably low-sodium, rinsed and drained
1 can (15 to 16 ounces) black beans, preferably low-sodium, rinsed and drained
1/3 cup brown rice (see notes below)
4 ounces frozen greens, such as spinach, turnips or collards
1/2 cup frozen corn kernels
Heat a medium soup pot over medium heat. Add the oil, then the onions, carrots, celery and green peppers. Cook until softened, about 5 minutes. Add the garlic and cook 1 more minute. Stir in the chicken broth, scraping up any browned bits in the bottom of the pan. Add the remaining ingredients except for the greens and corn. (See notes below concerning rice.) Bring to a boil over high heat, cover, reduce to low and simmer for 20 minutes. Taste for seasoning and adjust as needed. Add the greens and corn; continue to simmer until the rice is tender, about 20 additional minutes. Serve immediately or keep warm over a very low heat for up to 20 minutes.
Notes: The brown rice I usually use in this recipe takes about 40 minutes to cook, although I have made it with quick-cooking brown rice. You can use any brown or long grain white rice. Check the package for the time it takes to cook and add it sooner or later, allowing at least 40 minutes total cooking time for the soup. If a thicker broth is desired, use a little more rice or an immersion blender to puree a small portion of the soup. Leftovers reheat very well.