Black Bean and Corn Salad or Salsa
Serves 4 to 6
I love bean salads, and this southwestern-style version is no exception. In addition to the great flavors, I really like that this recipe can double as a salsa, as indicated in the notes below. Either way, it is a quick, easy, healthy and delicious side dish or appetizer.
Ingredients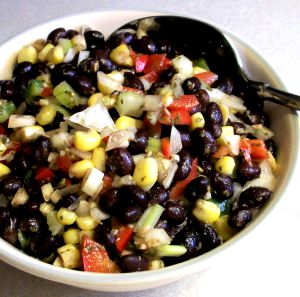 1 can (16-ounces) black beans, rinsed and drained (see notes below)
1 cup fresh or frozen corn kernels, thawed if frozen
1/4 cup finely chopped celery
1/4 cup chopped red bell pepper
1/4 cup chopped green bell pepper
1/4 cup chopped onions, preferably sweet
1 large garlic clove, minced
1 tablespoon red wine vinegar
2 tablespoons olive oil
1/2 teaspoon honey
1 teaspoon ground cumin
1/4 teaspoon ancho chile powder (see notes below)
2 teaspoons dried oregano leaves
Salt and pepper to taste
1 tablespoon chopped fresh cilantro (see notes below)
Place the beans and vegetables in a medium bowl. In a small bowl, whisk together the remaining ingredients. Pour the dressing over the beans and vegetables. Taste for seasoning and adjust if desired. Chill until serving.
Notes: The salad can be served as a salsa just the way it is. However, I prefer to substitute lime juice for the vinegar and omit the celery. I always use low-sodium or no-salt-added canned beans and vegetables. For more heat, use a hotter chile powder or add a small jalapeno, seeded and finely chopped. If, like me, you do not care for cilantro, you can use fresh parsley. However, I usually use dried cilantro because it adds just a hint of flavor without the overpowering 'soapy' taste. This salad can be made several days ahead and refrigerated. Actually, the flavor benefits from an overnight stay in the refrigerator, but it is still very good served immediately.