Black Bean and Corn Tacos
Makes 6 to 8 tacos
I hesitated for a long time to make any type of sandwich or wrap with the main ingredient being beans. I guess I thought I would not like the texture of the beans with bread. But I love the flavor of beans, so I decided to try it. Black beans are firm and quite meaty, so they were the obvious choice and it made sense to use them in soft corn tortillas with southwestern seasonings. Corn tortillas are not at all 'bready', so I knew there would be a texture contrast and the flavors would complement each other. Oh my goodness, these are so good. I think I could eat bean tacos every week. They are a quick, easy and healthy vegetarian main dish that even meat lovers will enjoy. The recipe can easily be doubled or made in any amount. Leftovers reheat very well whether used in tacos or not. See the notes below for some helpful tips.
Ingredients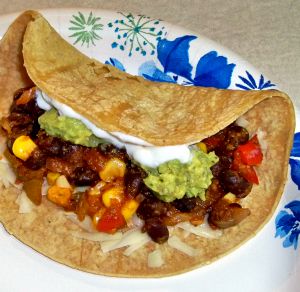 About 1 teaspoon canola or vegetable oil
1/4 cup finely chopped onion
1/4 cup finely chopped red and/or green bell pepper
1 can (15-ounces) black beans, preferably low-sodium or no-salt-added, rinsed and drained
1/2 cup frozen corn kernels (can use canned, drained)
1/2 cup plain tomato sauce, preferably no-salt-added
1/2 teaspoon dried oregano leaves
1/2 teaspoon ground cumin
1/4 teaspoon garlic powder
1/8 teaspoon onion powder
1/4 teaspoon ancho chile powder
Salt and pepper to taste
6 to 8 (6-inch size) corn tortillas
Shredded sharp cheddar or Monterey Jack cheese
Guacamole and sour cream (optional, see the similar and related recipes)
Heat the oil in a medium nonstick skillet over medium heat. (If using a regular skillet, use a little more oil.) Add the onions and peppers. Cook until softened, about 5 minutes. Add the beans. Lightly mash some of the beans with a fork. Add the corn, tomato sauce and seasonings. Cover and cook until hot, about 5 minutes, stirring occasionally. Taste for seasoning.
Heat the tortillas in the microwave or oven. To assemble, place some cheese in the middle of each tortilla. Add the bean mixture, leaving room for garnishes. Top with the optional guacamole and/or sour cream. (Alternately, let each person assemble their own taco.) Serve immediately.
Notes: Taco sauce can be substituted for the plain tomato sauce and use less of the herbs and spices. I prefer to add my own seasonings and I always have those listed in the ingredients on hand. However, you can use your favorite packaged taco seasoning or chili powder if that is what you have. If you prefer more heat, use a hotter chile powder, such as chipotle. Admittedly, I tend to put too much filling in my tacos. If you are more reasonable, this will easily make eight tacos. Plan on two or three tacos per person.