Turkey Chili
Serves 6 to 8
This recipe is based on mother's chili, which is in the similar and related recipes links. I love that chili, but have grown very fond of ground turkey and use it in many recipes that traditionally call for ground beef. It is not just that it is healthier, because there is nothing wrong with lean ground beef now and then, but I love the turkey flavor. I made a few other changes to the original recipe, including the addition of pink beans. The texture and flavor is very complementary in combination with the turkey and kidney beans. If you cannot find them, use all kidney beans. The chili can be made on a weekend and refrigerated for several days to reheat on a busy weeknight. Leftovers are also excellent. I prefer to use 93% lean ground turkey because it contains some dark meat, which has more flavor than breast alone. Of course, you can use a leaner blend. And I always use low-sodium or 'no salt added' canned products, such as the beans and tomatoes in this recipe.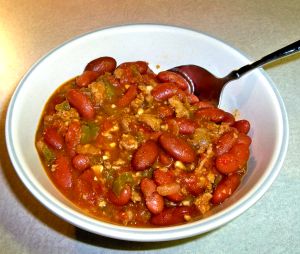 Ingredients
2 tablespoons olive oil
1 pound ground turkey, preferably 93% lean
Salt and pepper to taste
1 large onion, chopped
1 large green bell pepper, chopped
5 large cloves garlic, minced
1 tablespoon ground cumin
1 tablespoon dried oregano leaves
1 tablespoon ancho chile powder
2 tablespoons grated Parmesan cheese
3 cans (about 15.5 ounces each) red kidney beans, rinsed and drained
2 cans (about 15.5 ounces) pink beans, rinsed and drained
2 cans (14.5 ounces each) whole tomatoes with juices, crushed slightly
Heat a large soup pot or Dutch oven over medium-high heat. Add the oil, then the ground turkey. Brown the turkey, breaking apart as it cooks. Season with salt and pepper. Add onions, peppers, cumin, oregano, and chili powder; cook until vegetables are tender, about 5 minutes. Add the garlic and cook 1 more minute. Add the Parmesan, beans, tomatoes, and juices. Stir well; cover and cook about one hour. Taste for seasoning and adjust to taste. Cover and cook for an additional hour or until liquid has thickened. (If it needs further thickening, remove the lid for part of the cooking time.) Serve as is or with grated sharp cheese, sour cream and chopped onions as garnish.
Notes: This is even better the next day. Chili can also be frozen for several months.