Grilled Steak with Red Wine Marinade
Serves 4 to 6
Usually, when I grill a steak, I want nothing more than steak and grill flavors. However, there are certain cuts of beef that I like to marinate. This marinade recipe adds flavor, but not so much as to mask the natural taste of the beef. Because of that, you can use this marinade with any steak you like, although I usually reserve it for the more economical cuts. The recipe calls for indoor or outdoor grilling, but the steak can be broiled or pan-seared.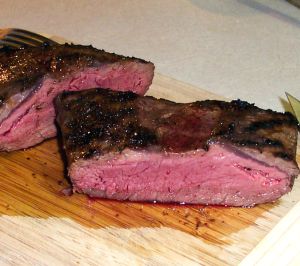 (Pictured with flat iron steak.)
Ingredients
1-1/2 pounds steak, such as sirloin, chuck or flat iron
4 large cloves garlic, minced
1/2 teaspoon dried thyme
3 tablespoons dry red wine
Pepper to taste
2 tablespoons olive oil
Salt to taste
Cut steak into serving size portions. Place in a large sealable plastic bag. Mix the remaining ingredients, except the salt, in a small bowl. Pour over the meat. Seal the bag, removing as much of the air as possible. Using your hands, rub the bag and massage the marinade into all the steak. Place on large flat dish, just in case it leaks, and let set at room temperature for at about 30 minutes or in the refrigerator for several hours.
Bring the steak to room temperature while heating a grill on high, direct heat (or heat a grill pan to high.). Pat the steaks dry with paper towels and season with salt. Grill until the desired doneness, about 4 minutes per side for medium-rare, depending on thickness, (See notes below for cooking tips.) Remove from grill, tent with foil and let rest about 7 minutes before serving.
Notes: Steak is always best when cooked no more than medium and some cuts should never be overcooked. If you prefer beef more than medium-rare to medium, chuck and flat iron might not be the best choices for this recipe. They are best done very quickly to avoid getting tough and dry. Sirloin is a better choice for longer cooking.