Rustic French-Style Multigrain Bread
Makes 2 loaves
This is an excellent, wholesome bread. It is based on my crusty French bread, which is in the similar and related recipes, but I substituted 8-grain flour for some of the white and oil for the butter, adding flavor and bumping up the good nutrition.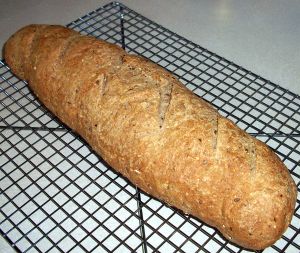 This recipe can be mixed and kneaded by hand, in a large processor or with a heavy-duty mixer.
Ingredients
4-1/2 teaspoons dry yeast
2-1/2 cups warm water (105° to 115° F)
1 tablespoon salt
1 tablespoon olive, vegetable or canola oil
5 cups unbleached all-purpose flour
2 cups 8-grain or other multigrain flour
1/4 cup cornmeal
1 egg white
1 tablespoon cold water
Dissolve yeast in warm water in warmed mixer bowl. Add salt, butter, and both flours. Using dough hook, mix on low speed until well blended, about 1 minute. Knead on same speed (depending on your mixer) for 2 minutes. Dough will be sticky, but do not add extra flour unless you know from experience that it is too wet. Place in greased bowl, turning to grease top. Cover with plastic wrap, then a heavy towel. Place in a draft-free area and let rise until doubled, about 1 hour.
Punch dough down and divide in half. Roll each half into a 12x15-inch rectangle. (If the dough is very sticky, lightly flour the rolling surface.) Tightly roll each rectangle, from longest side, tapering ends and folding ends under slightly. Pinch seams to seal. Place loaves, seam side down on a greased baking sheet that has been dusted with cornmeal, being certain to leave enough space between the loaves for additional rising. Cover the loaves with plastic wrap and towel; let rise in a draft-free area until doubled, about 1 hour.
With a sharp knife, make about 5 diagonal cuts on top of each loaf. Bake in a preheated 450° F oven for 25 minutes. Meanwhile, make egg wash by beating together the egg white and water. Remove loaves from oven; brush tops with egg wash. Return to oven and bake 5 minutes longer. Remove from baking sheet and cool on wire racks before slicing. If desired, cooled bread can be wrapped tightly in foil, placed in a freezer bag and frozen for up to three months.