Fresh Blueberries and Peaches with Blueberry-Vanilla Compote
Serves 4 to 6
There is nothing quite like fresh local blueberries and peaches when they are in season. They are delicious eaten as is. However, I love combining the two and adding some cooked berries for extra juice. The vanilla, as well as cinnamon and nutmeg, add flavor reminiscent of a baked dessert. Sometimes, I top the fruit with a dollop of plain yogurt and some crunchy granola. This recipe is a quick, easy, healthy and super delicious dessert, breakfast or brunch treat.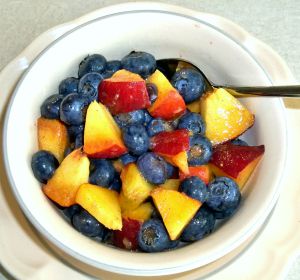 Ingredients
2 pints fresh blueberries
4 or 5 medium fresh peaches, preferably freestone
2 tablespoons sugar, or to taste (see notes below)
1/2 teaspoon vanilla
1/2 teaspoon ground cinnamon
1/4 teaspoon ground nutmeg
Plain nonfat or low-fat yogurt (optional topping)
Granola (optional topping)
Rinse and drain the blueberries, removing any stems. Place about one cup in a small saucepan. Stir in the sugar. Heat over medium-high heat, stirring occasionally, until the berries break down slightly and make some juice. Remove from the heat, add the vanilla, cinnamon and nutmeg and stir well to combine. Let cool while preparing the peaches.
Clean the peaches or, if desired, remove the skin, although I leave it on. Cut into bite-size pieces. Place in a bowl with the uncooked blueberries. Add the cooked blueberries with juices and gently stir to combine. Taste for seasoning, adding more sugar or spices as needed. This can be served immediately or refrigerated for several days. Top with the optional yogurt and/or granola just before serving.
Notes: The amount of sugar needed depends on the sweetness of the blueberries and peaches. I always taste both before cooking the berries so I can adjust the amount. If they are perfectly sweet, I use less sugar. If the berries are unusually tart, I cook more than the 1 cup, perhaps as much as 1-1/2 cups and add more sugar. If the peaches are not as flavorful as usual, I add a little orange liqueur to the cooked berries. If you can get freestone peaches, do so. They come off the pit effortlessly and I think they have better flavor than the others. This recipe works equally well with nectarines and can be made in any amount.