Fruit or Berries Macerated with Liqueur
Make in any amount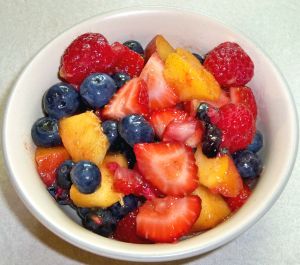 This is an easy and light dessert for any occasion at any time of the year, whether for a weeknight dinner or entertaining.
Use whatever fruits or berries are available. Splash with a liqueur such as orange liqueur or limoncello, my two favorites. You can even use liquor such as cognac, brandy, or white rum, or a flavorful sweet wine such as port. Mix well, cover and set in the refrigerator for at least two hours and taste for adjustments. Serve in dessert bowls or, for a more elegant presentation, place in your favorite stemmed glasses. For an extra touch, pour some champagne over the fruit and watch it bubble. If desired, garnish with a sprig of mint.
For a kid-friendly version, macerate the fruit with a little orange juice. Before serving, add the liqueur to the adult desserts.