Grilled Lamb Loin Chops
Serves 4
This recipe for lamb chops is quick, easy, healthy and delicious. Make them on the indoor or outdoor grill, or under the broiler. Depending on the size of the chops, you might want to serve two per person. The marinade is equally good with beef, chicken or pork.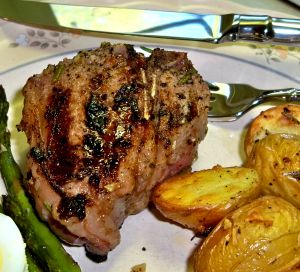 Ingredients
4 thick lamb loin chops, trimmed of excess fat (see comments above)
Dijon mustard
Balsamic vinegar
Rosemary, fresh or dried
Minced fresh garlic
Olive oil
Salt and pepper to taste
Spread chops with a little of the mustard. Drizzle with vinegar and a little olive oil, then add the seasonings. Turn to rub in both sides. Let marinate at room temperature for about 30 minutes.
Meanwhile, heat the grill, grill pan or broiler. Grill chops over high heat until an internal temperature of 135°, about 5 minutes per side for medium-rare, depending on thickness.