Lamb Stew
Serves 4
I love a good stew. I love lamb. And I love the flavor beer imparts in lamb or beef stew. Can you guess that I love this Irish-inspired recipe? However, if lamb is not your thing, you can substitute beef for the lamb. Like most stews, this takes a while to cook, but most of the work is hands-off, making it an easy main dish and one pot meal for a family dinner or entertaining.
Ingredients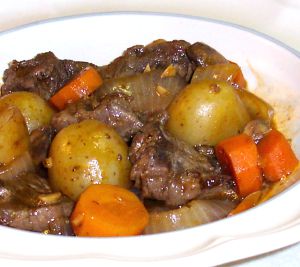 1 tablespoon olive oil (more if needed)
2 pounds lamb shoulder or leg meat, trimmed of fat and cut into 1-1/2 inch cubes
Salt and pepper to taste
2 teaspoons all-purpose flour
1 bottle (12-ounces) dark beer
2 tablespoons red wine vinegar
1-1/2 tablespoons Dijon mustard
1 bay leaf
1/4 teaspoon dried thyme, crumbled
1 tablespoon butter, preferably unsalted
2 large onions, sliced into rings
4 large garlic cloves, chopped
4 medium carrots, cut into 1/2-inch pieces
1 to 1-1/2 pounds potatoes, cubed or halved (see notes below)
Heat oil in large skillet over medium heat. Season the lamb with salt and peppers. Add lamb to skillet in batches, being careful not to crowd the pan, and brown well on all sides. Remove from skillet using slotted spoon. When all the lamb is browned, return to the skillet. Sprinkle with flour and stir to blend. Cook 3 minutes. Remove to a Dutch oven, using a slotted spoon.
Degrease skillet. Place over medium-high heat; add beer and stir, scraping up any browned bits in the bottom. Blend in vinegar, mustard, bay leaf and thyme. Pour over meat mixture. Melt butter in same skillet over medium-high heat. Add onions and sauté until golden brown, about 7 minutes. Add garlic and sauté an additional 2 minutes. Mix onions and garlic into meat.
Bring stew to a simmer over high heat. Reduce heat to low, cover and cook until meat is tender, about 1-1/2 hours. If necessary, skim off excess fat. Add carrots and potatoes; cook until tender, 30 to 40 minutes. (At this point, if stew is too thick or dry, add a little water or broth as needed. If too liquid, cook uncovered until desired consistency.) Serve immediately or keep warm over a very low heat for up to 30 minutes. (The stew can be prepared 2 to 3 days ahead, refrigerated and gently reheated over low heat.)
Notes: If using large potatoes, cut into about 1-inch cubes. I like to use baby potatoes in stew. Depending on the size, they only need to be halved.