Roasted Turkey with Giblet Gravy
Serves 8 to 10
There was never anything fancy about my Pennsylvania Dutch grandmother's roast turkey. She did not use many herbs or spices when roasting meats. The flavor came from the bird, the vegetables used and how well she roasted it. The result is pure and delicious turkey flavor. This recipe does not call for stuffing. If you like, stuff the bird but add about thirty minutes to the roasting time. See the Potato and Bread Filling in the similar and related recipes for a favorite PA Dutch poultry stuffing that can also be baked as a separate casserole.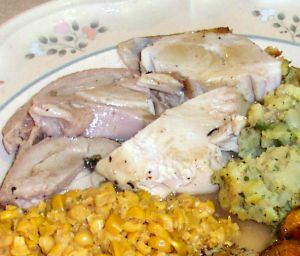 Ingredients
Giblet Gravy
1 whole chicken, or the equivalent in chicken and/or turkey parts
1 pound chicken gizzards
1 large onion
1 large carrot
1 stalk celery
1 bay leaf
Water and/or low-sodium chicken broth to cover meat
Salt and pepper to taste
Flour/water paste
Turkey
One turkey, about 14 pounds
1 large onion
1 large carrot
1 stalk celery
Butter for basting
Salt and pepper to taste
To prepare broth for gravy: Brown chicken over high heat in large stockpot. Add gizzards and vegetables; cover with water and/or broth. Add salt and pepper. Simmer over low heat until meat and gizzards are tender, about 60 minutes. Remove meat and vegetables from broth. Chop gizzards into small pieces. Return to broth. (Can be done several days ahead and refrigerated.)
To prepare turkey: Preheat oven to 325° F. Remove the packet of giblets and neck from inside the turkey. (Do this early, adding the neck, gizzards and heart when cooking the broth above, or cook them separately and combine the broths.) Place the onion, carrot and celery in the cavity, cutting as needed to fit. Tie the legs with butcher's twine. Brush all over with the butter. Season with salt and pepper to taste. (If you have a self-basting bird, use very little salt.) Place on rack in shallow roasting pan. Roast, basting about every 20 minutes with broth or pan juices, for about 3-1/2 hours or until an instant-read thermometer inserted in thigh registers 170° F. Tent loosely with foil if turkey gets too brown. Place on cutting board and tent with foil. Let rest at least 20 minutes before carving. (The internal temperature will rise while the turkey rests.)
To finish gravy: Meanwhile, finish the gravy. Deglaze the roasting pan with some of the broth. Add the remaining broth. Make a paste with flour and cool water, being certain to combine thoroughly. Add gradually to gently boiling broth in roasting pan, stirring or whisking vigorously and pausing in between additions to allow gravy to thicken. Continue to add flour paste and cook until it is the desired consistency. Serve immediately or keep warm over a very low temperature.