Sauerkraut with Sweet Potatoes
Serves 4 to 6 as a side dish
(See variation below for a main dish.)
Where I grew up in Pennsylvania, just about everyone likes sauerkraut. It is made from cabbage that is placed in a brine and allowed to ferment and, therefore, becomes sour and salty. It was and still is one of many methods for preserving the bounty of the harvest to last through the winter. The Pennsylvania Dutch have meals where sauerkraut is the main dish, accompanied by pork and potatoes cooked with it. This recipe is typically served as a side dish with pork roast. However, it is equally good as a vegetarian one pot meal. The sweet potato and apple add sweetness and lots of flavor. I have served this to people who do not like sauerkraut, but they will eat it made this way. I prefer to use sauerkraut packed in plastic bags that can be found in the refrigerator section of the grocery store because it has a fresher flavor than canned and is usually less salty. For a version cooked with pork, see the Sauerkraut with Pork and Sweet Potatoes. For a very low sodium, homemade version, try my Mock Sauerkraut. Both of those recipes are in the similar and related recipes.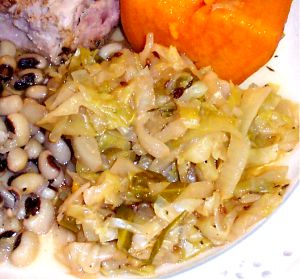 Ingredients
2 pounds sauerkraut
1 large onion, coarsely chopped
1 large sweet potato, cut in quarters
1 tart apple, such as Macintosh or Granny Smith, cored and cut in quarters
About 2 cups water
1 cup dry white wine (optional)
Pepper to taste
If desired, place the sauerkraut in a colander and rinse with water to remove some of the salty brine. Drain and place in a large pot with remaining ingredients. The water should be about half-way up the sauerkraut. Bring to a boil; reduce heat, cover and simmer until tender, at least 60 minutes.
Notes: A little brown sugar can be added for additional sweetness. If serving with a pork roast, I usually add some of the drippings from the roast while the sauerkraut is cooking. An alternate method to cooking would be to place the sauerkraut surrounding the roast in the roasting pan and bake in the oven. Use less water to begin with and add more as needed. I like the white wine because it adds another dimension of flavor. However, my mother and grandmothers did not add it.
Main Dish Variation: To serve four as a main dish, add another large sweet potato and apple. Serve with a good rye bread topped with apple butter.