Cheese Ravioli with Tomato Sauce
Serves 3 to 4
I love to make homemade ravioli, but I do not always have the time or the desire to make them from scratch. This pasta recipe is for those days when I want to get dinner on the table with minimal effort. It is a quick, easy and delicious Italian main dish. There are some good-quality fresh or frozen ravioli that you can purchase with all sorts of fillings in white or whole wheat pasta dough. I usually purchase a package and store it in the freezer so it is there when I need it. The tomato sauce I use is very basic so it does not overwhelm the ravioli. See the notes below for an even quicker version.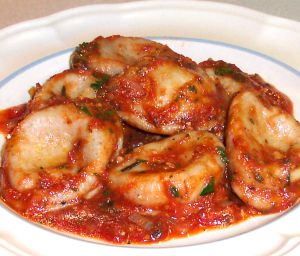 Ingredients
2 tablespoons olive oil
1 small onion, diced
1 small carrot, shredded
4 large cloves garlic, minced
2 cans (14.5 ounces each) whole tomatoes crushed with fingers, with juices
1/4 cup dry red wine
1 tablespoon dried basil leaves
2 teaspoons dried thyme leaves
Salt and pepper to taste
1 pound frozen or fresh cheese ravioli (see notes below)
2 tablespoons chopped fresh basil (optional)
2 tablespoons chopped fresh parsley (optional)
Freshly grated Parmesan or Romano cheese
Heat a large sauté pan over medium-high heat. Add olive oil, then the onions and carrots; sauté until softened, about 5 minutes. Add garlic and sauté for an additional minute. Add tomatoes, wine, dried basil and thyme, salt and pepper. Cover and cook over medium-low heat until tomatoes have broken down and liquid has reduced, about 20 minutes. Remove lid and continue to cook until desired thickness, but not too thick. Add the fresh basil and parsley and taste for seasoning.
Meanwhile, cook ravioli according to package directions for al dente. Drain; add to sauce and cook for about 1 minute, stirring to combine. Serve immediately, passing the grated cheese separately.
Notes: You can substitute an equal amount of canned crushed tomatoes for the whole, which will yield a thicker sauce in less time. Although the fresh herbs are optional, I always use them when I have them on hand because they add a bright, fresh flavor to the finished dish. Store-bought ravioli come in a variety of package weights. This recipe makes an ample amount of sauce for up to 20-ounces ravioli. If you are only making one pound, you might want to remove some of the sauce from the pan before adding the cooked ravioli, then add some of it back if you want more. Extra sauce can be refrigerated for several days, or frozen for several months, and used as you would any jarred sauce.