Grilled Pork Loin with Dijon and Fresh Herb Rub
Serves 6 to 8
If you have looked through my pork recipes, you know by now that I love a boneless loin, whether grilled or pan-seared and roasted. That is because they are an easy and healthy main dish that is relatively quick to prepare and delicious when properly cooked. There are so many different combinations of herbs, spices and condiments that go well with pork. I do not know which of my recipes is my favorite, but this is an excellent example. On a cold or rainy day, the roast can be prepared in the oven, as described in the notes below.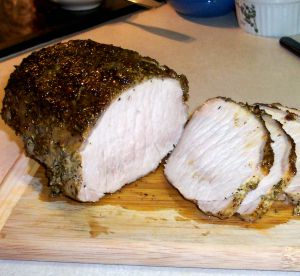 Ingredients
1 boneless pork loin roast, about 2 pounds
1 tablespoon Dijon mustard
1 tablespoon finely chopped fresh rosemary leaves
1 tablespoon finely chopped fresh sage leaves
2 teaspoons finely chopped fresh thyme leaves
1 tablespoon minced fresh garlic
Pepper to taste
1 tablespoon olive oil
Salt to taste
Pat the pork dry with paper towels and place in a shallow pan or resealable plastic bag. Combine all of the remaining ingredients, except the salt, into a paste in a small bowl. Rub the paste all over the pork. Cover and refrigerate at least 2 hours or overnight.
Heat a grill on high heat for indirect grilling. Season the pork with salt and place on the grill, fat side down, over direct heat and sear for about 3 minutes. Turn and sear the other side. Turn heat to medium and move pork to cool area of grill. Cover and cook until pork is done, about 40 minutes depending on thickness and the grill, turning occasionally. The internal temperature should be between 145° and 150° F. Place on a cutting surface, tent with foil and let rest for 10 minutes. Slice, serve and enjoy.
Note: If making in oven, preheat to 350° F. Heat an ovenproof skillet or small roasting pan over high heat. Add 2 tablespoons olive oil and heat. Place pork, fat side down in pan. Sear for about 2 minutes, then turn and sear the other side. Place in oven and roast until done as stated above, about 45 minutes.