Pan-Seared Pork Tenderloin with Mustard and Herbs
Serves 4
The more I use pork tenderloin, the more I realize just how great a piece of meat it is. It is quick and easy to make, very lean and healthy, versatile enough for an elegant dinner or a weekday meal and, when cooked correctly, tender, juicy and flavorful. Make extra of this recipe and use the leftovers for delicious sandwiches the next night. See the notes below for an optional light sauce made with the pan juices.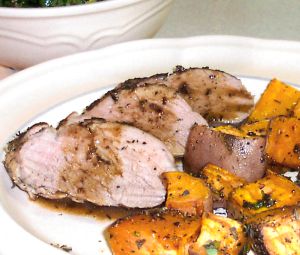 Ingredients
One pork tenderloin, about 1-1/2 pounds
1 tablespoon Dijon mustard
Salt and pepper to taste
1 teaspoon dried thyme leaves
1 teaspoon dried or rubbed sage leaves
1/2 teaspoon garlic powder
2 tablespoons olive oil
Preheat oven to 400° F. If necessary, remove any of the silver skin from the pork. Rub the mustard all over the meat, then season all over with the salt, pepper, thyme, sage and garlic.
Heat a medium ovenproof skillet over high heat. Add the oil, then the roast, browning on all sides, about 2 minutes per side. Place the skillet in the oven and roast until the meat registers an internal temperature of 145°, 10-15 minutes. Remove meat from skillet and tent loosely with foil. Let rest about 10 minutes. Cut the pork into thick slices and serve.
Notes: This recipe can easily be doubled for a crowd. Use any type of mustard you prefer. If you would like to make a little sauce while the pork rests, return the skillet to a high burner, add about 1/2 cup of dry white wine, vermouth, broth or water and boil until somewhat reduced, about 3 minutes, scraping up any browned bits in the pan as it cooks. Use the pan juices to drizzle over the pork. Do not overcook the meat. The temperature will rise as it rests. Overcooked pork tenderloin is dry and tasteless.