Roasted Whole Turkey Breast
Serves 6 to 8
I often purchase whole turkey breasts when they are on sale and cut them into two boneless portions. I make broth from the carcass and freeze that. However, there are times when I like to roast the entire breast to serve more people or just because I want leftovers to slice and freeze for future sandwiches. Although this recipe takes a little time in the oven, it is mostly hands off and very easy. If desired, make a sauce or gravy while the turkey is resting, deglazing the browned bits in the pan with wine or broth.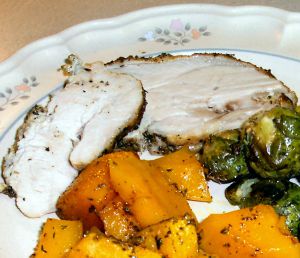 Ingredients
1 large onion, peeled and quartered
1 large carrot, peeled and cut into 2-inch pieces
1 large celery rib, cut into 2-inch pieces
6 large cloves garlic, peeled
One whole bone-in turkey breast, about 6 to 6-1/2 pounds
Salt and pepper to taste
2 teaspoons dried thyme leaves
2 teaspoons dried sage leaves
About 2 tablespoons olive or canola oil, or melted butter
Preheat oven to 325° F. Place the vegetables in a roasting pan. Season the turkey all over, including under the ribs, with the salt, pepper, thyme and sage. Rub it all over with the oil or melted butter. Place in the pan on top of the vegetables. Roast until the turkey reaches an internal temperature of 165°, about 2-1/2 hours, basting with the pan juices about every 30 minutes. (If there are no juices in the pan for the first basting, use a little water.)
When the turkey is done, remove it from the pan, cover with foil and let rest for 30 minutes. The temperature will continue to rise during that time. Discard the vegetables. To serve, cut one breast half off of the bone. Slice across the grain into about 1/2-inch slices. Slice the other half as needed. (Reserve the carcass to make a broth to freeze for later use.) Serve immediately.