Turkey with Summer Vegetables
Serves 2 to 3
I absolutely love my meatless Summer Vegetable Medley, which is in the similar and related, and make it often, especially in summer when the vegetables are at their best. However, I thought it might be interesting for a change to add some meat. Sausage was a consideration and would be very good. But I opted for ground turkey to keep it light and because I love the flavor. The results were delicious. This is a quick, easy and healthy main dish. Make it in any amount needed.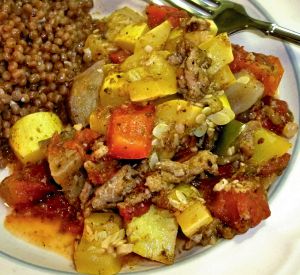 Ingredients
2 tablespoons olive oil
8 ounces ground turkey (I prefer 93% lean)
1 small onion, coarsely chopped
1 medium green and/or red pepper, coarsely chopped
4 large cloves garlic, minced
One can (14.5-ounces) whole tomatoes, crushed with hands, with juices (can use about 1 pound fresh tomatoes, chopped)
1 tablespoon dried oregano
Salt and pepper to taste
3 yellow squash
1 small eggplant
Freshly grated Parmesan or Romano cheese for garnish (optional)
Heat olive oil in large skillet or sauté pan over medium-high heat. Add the turkey and sauté until lightly browned, breaking it apart as it cooks. Add the onions and peppers. Sauté until tender, about 5 minutes. Add the garlic and cook 1 more minute. Add the tomatoes, oregano, salt and pepper. Cook just until the tomatoes break down slightly, about 3 minutes. Add the squash and eggplant. Cover and cook over medium heat until tender, about 20 minutes. Stir occasionally and add a little water if needed. Taste for seasoning. Serve with brown rice or other grain. Garnish with the grated cheese.