Tossed Green Salad with Basil Vinaigrette
Serves 4
I love salads and this is one of my favorite salad dressing recipes. Use any mixture of salad greens you prefer and, if desired, include other vegetables, such as cucumbers or radishes.
Ingredients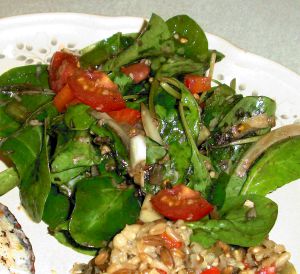 About 6 cups torn salad greens, rinsed and dried
1/3 cup coarsely chopped sweet or red onion
3/4 cup grape or cherry tomatoes, halved
1 teaspoon Dijon mustard
2 tablespoons balsamic or red wine vinegar
4 tablespoons olive oil
1 large clove garlic, minced
Salt and pepper to taste
1 tablespoon shredded fresh basil
2 tablespoons freshly grated or shredded Parmesan cheese
Place the greens, tomatoes and onions in a large bowl. In a small bowl, mix together the mustard and vinegar. Slowly drizzle in the oil, whisking rapidly to emulsify. Stir in the garlic, salt, pepper and basil. Pour some dressing over the greens. Sprinkle with the cheese and toss gently to combine. Serve immediately.
Notes: Depending on the amount of greens, you might not need all of the dressing. The salad is best if dressed lightly. Any extra can be refrigerated for several days. For a more elegant presentation, place the greens on individual serving plates, top with thinly sliced onion rings, then the tomatoes, drizzle with dressing and sprinkle with cheese.