Chicken Salad Sandwiches with Dill and Hard-Cooked Egg
Serves 2
I rarely think to make chicken salad and I do not know why. I have a delicious recipe, included in the similar and related recipes, which came from my mother. However, I decided to make a version better suited for sandwiches. I wanted something creamy but light. This is what I came up with and it is so very good served as is or in sandwiches, using leftover or freshly cooked chicken. It is equally good with turkey. Make this quick, easy and healthy recipe in any amount needed and serve for lunch or dinner. It will keep in the refrigerator for several days.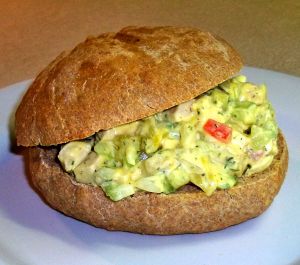 Ingredients
2 tablespoons finely chopped sweet onions
1 tablespoon finely chopped red bell pepper
2 tablespoons finely chopped celery
2 tablespoons chopped dill pickles
3/4 cup chopped cooked chicken or turkey
1 hard-cooked egg, chopped
1 teaspoon fresh lemon juice
1/2 teaspoon Dijon or yellow mustard
1 teaspoon chopped fresh dill
Salt and pepper to taste
2 teaspoons mayonnaise, preferably light or canola
2 teaspoons plain Greek yogurt, preferably fat free
2 crusty kaiser or sub rolls (see the similar and related recipes)
Lettuce and sliced tomatoes (optional garnishes)
In a medium bowl, combine the onions, peppers, celery, pickles, chicken and egg. Add the lemon juice, mustard, dill, salt and pepper. Stir gently until combined. Add the mayonnaise and yogurt. Stir again. Taste for seasoning. (Can be made ahead and refrigerated for up to three days.)
Halve the rolls horizontally. If desired, pull out some of the bread from each half and save the crumbs for another use. Place chicken salad on bottom halves, top with optional garnishes, then the top rolls.