Roasted Vegetables Sub Sandwiches
Makes 2 sandwiches
I love a good sandwich for dinner and, quite often, I make them with roasted or grilled meats leftover from a previous meal and top them with roasted peppers and onions. However, I do not always want the meat, so I decided to make a vegetarian version by adding mushrooms to the peppers and onions. It is so good. This recipe works well for families with a mixture of meat eaters and vegetarians, because you can add some meat for those who want it. However, since the mushrooms add a 'meaty' flavor and texture, anyone will be happy with it as is. This recipe is a quick, easy, healthy and delicious Italian-inspired main dish.
Ingredients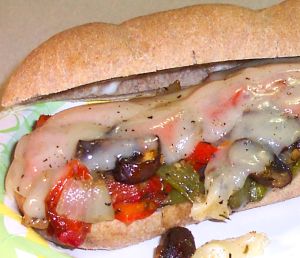 Olive oil or canola cooking spray
1 large red bell pepper, cut into 1/4-inch thick strips
1/2 large green bell pepper, cut into 1/4-inch thick strips
1/2 large onion, preferably sweet, cut into 1/4-inch thick slices
8 ounces cremini mushrooms, halved and cut into 1/4-inch thick slices
1 tablespoon olive oil, more as needed
2 large cloves garlic, minced
1 teaspoon dried thyme leaves
2 teaspoons dried oregano leaves
Salt and pepper to taste
2 crusty sub rolls, preferably multigrain or whole wheat
Mayonnaise (can use light or canola)
Thinly sliced provolone cheese, preferably aged extra sharp
Hot pickled peppers, crushed or rings (optional garnish)
Preheat oven to 425° F. Lightly spray a shallow-sided sheet pan, large enough to hold the vegetables in one layer, with cooking spray. (For easy cleanup, first line the pan with foil and spray that.) Place the peppers, onions and mushrooms on the pan. Drizzle with the olive oil, adding a little more if needed to lightly coat. Add the garlic, thyme, oregano, salt and pepper. Toss well to combine. Roast until the vegetables are tender, about 30 minutes.
Meanwhile, halve the rolls horizontally. Remove some of the extra bread from the centers of both halves to form a boat. Place under the broiler, cut side up, and toast slightly. Spread each half with a little mayonnaise. Put a generous amount of the vegetables in the bottom halves. Top with the cheese and broil until the cheese is melted. Top with the optional hot peppers, then the top rolls and serve.