Homemade Steak Sandwich Sauce
Makes about 2 cups sauce
Steak sandwiches differ from region to region, even in Pennsylvania, home of the popular Philly cheese steak. Where I grew up in eastern Pennsylvania, the most popular steak sandwiches are made with shaved beef that is browned and then topped with or simmered in tomato sauce, served in a crusty hoagie roll, with or without cheese, grilled onions and hot or mild peppers. (See my version in the similar and related recipes.) There are some canned sauces made specifically for steak sandwiches that are fairly good, but I cannot find them where I live now. This was my mother's homemade version and it is a family favorite. It takes a little while to cook but can be made ahead. The recipe can easily be halved or doubled.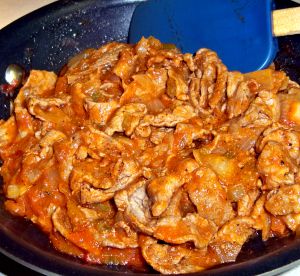 (Shaved beef with steak sandwich sauce.)
Ingredients
2 teaspoons olive oil
1 medium celery rib, chopped
1 medium green pepper, chopped
1 small onion, chopped
1 can (6-ounces) tomato paste, preferably unsalted
5 cups water
1/2 teaspoon brown sugar
1/2 teaspoon dry mustard
Salt and pepper to taste
1/2 teaspoon pickling spice
Heat oil in medium saucepan over medium heat. Add celery, green peppers and onions; sauté until slightly tender. Wrap the pickling spices in a piece of cheesecloth or paper coffee filter and tie. Add it to the saucepan with the remaining ingredients. Reduce heat and simmer, uncovered, until reduced by about half and slightly thickened, about 1 hour, stirring occasionally to prevent sticking. Taste after about 30 minutes and adjust seasoning as needed, keeping in mind that the flavors will continue to intensify. Use immediately or refrigerate for up to a week.
Notes: The sauce can be frozen for up to one year, so you might want to make extra for a quick sandwich meal in the future.